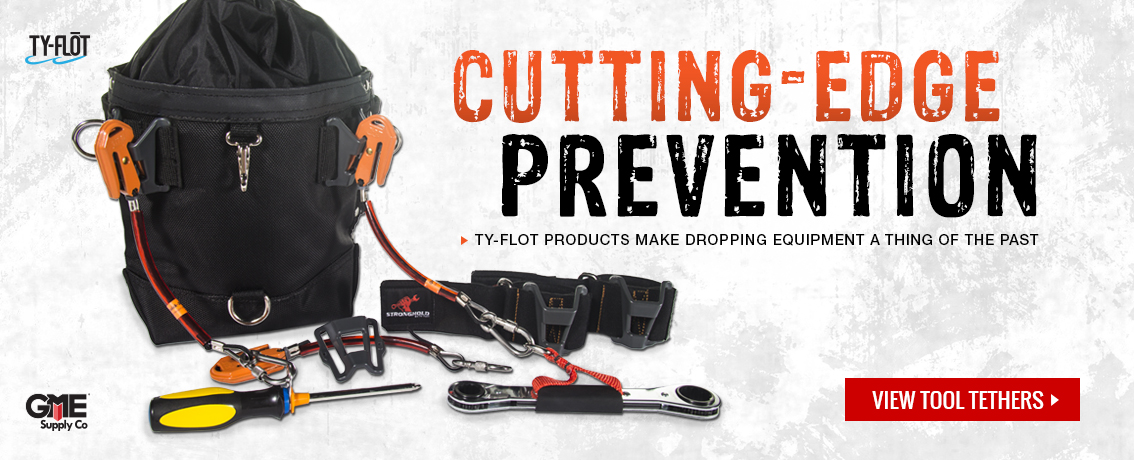 ---
The ISEA/ANSI 121 Dropped Objects Prevention Standard has officially been released so we wanted to take some time to discuss everything involved with the Dropped Objects Prevention Standard. ANSI 121 is outlines the safety standards and requirements for testing at-height tool tethering equipment in order to increase safety. This doesn't mean that there will be a requirement for tethering. However, in the future, it may be standardized across different industries. This week our
Gear Experts®
are going to discuss
tool tethers
and how you can prepare to be in compliance with ANSI 121.
Tool Tethers
---
Tool tethers have been around for quite a few years. However, traditionally they were referred to as tool lanyards. The industry has adopted the name tool tethers to prevent confusion between tool drop prevention equipment and
shock absorbing lanyards
. Tool tethers, like most equipment in the at-height industry, come in a range of shapes and sizes. GME Supply is happy to partner with leading names in the tool tethering industry like
Ty-Flot,
Ergodyne
,
Klein Tools
, and
DBI Sala
.
How They Work
---
Tool tethers help prevent injury, damage to expensive equipment or tools, and lost productivity. Believe it or not, dropped objects are still a huge cause of injury and even death in the United States.
Tool tethers
have a range of connections points. Almost all the tethers we offer feature a carabiner for connection to your
harness
or
bolt bag
. The carabiners are available in single and double action configurations. Tool tethers have a variety of different weight capacities ranging from 1 to 15 pounds. The weight capacity is based on the weight of the tool. If you need a tool tether with a larger capacity
click here
to contact one of our Gear Experts®. Connecting the tool tether to the tool itself can be done in a few different ways. If the tool has a tether connection built-in, then you are good to go. Simply attach the connection point of the tether to the tool and you're in business. If you find yourself in a situation where the tool does not have a tether point, there are solutions available. Some options include:
Self-Adhering Tape
 – This is a tape that has been designed to adhere a connection point to your tool.
Tool Traps
– This is a "holster" that your tool can fit in that provides the connection point and can stay on the tool while it's being used. It is most common to find this for measuring tapes and power tools.
Tool Collars
– These are components that help retrofit a range of tools with a connection point without hindering the ability to use the handle of the tool. Tool tethers come in a range of lengths that not only provide easier use when working but also provide added force reduction in the event of a drop. Another option, if you need to be able to adjust the length, is to use a retractable tether. Think of retractable tethers as mini SRLs for your tools. It functions in much the same way. We know what your thinking! Having 15 different tethers for your tools is going to add a lot of weight and be inconvenient when you're up 150 feet on a tower. But don't worry, we've got you covered there too. There are many tool tethers that have a modular construction. Essentially there is a clip below the shock absorbing portion of the tether that can be swapped out. So, instead of having a tether for each tool you can simply have a connection point and tether loop on each of your tools that can be easily switched out.
Drop Test
---
We decided to do a drop test to see the forces placed on your body by a dropped tool. For this test, we used the
Rock Exotica LC1 Enforcer Load Cell
. For a control, we utilized a static sling. When we dropped a Klein Bull Pin (which weighs 3 pounds) the forces maxed out at 98 pounds. With a variety of tool tethers, we had forces range from 70 to 38 pounds. That's a significant difference from the 98-pound static drop!
**The content of this blog is not intended to replace proper, in-depth training. Manufacturer's instructions must also be followed and reviewed before any equipment is used.
Looking for more information about tool tethers?
Click here
to contact one of our Gear Experts®. →
Click here
to see our full selection of Tool Tethers →
Click here
 to see our full selection of Tools
The Full Video:
---
Check out the full video of our drop test here ↓
Tool Tethers: The Playlist
---
Over the years we have featured a ton of different tool tethers. Check out the full playlist on our
YouTube Channel
 or, right here ↓
Get Social
---
Be sure to follow us on social media to keep up with everything GME Supply has going on.
Facebook | Instagram | YouTube | Twitter | LinkedIn

We're Also on Snapchat
---
Simply snap or screenshot this image ↓ to follow GME Supply!