Painting a tower isn't like painting most other things. In fact, there is a lot of science (and regulation) that goes into developing a paint that is tough enough to handle the job while meeting federal requirements. We've covered the basics of tower paint in
this previous blog post
. This week our
Gear Experts®
 are going to break down
TowerPlex Tower Paint
.
TowerPlex Formula
---
TowerPlex Tower Paint is formulated to offer durable, long-lasting protection for galvanized towers and other metal surfaces. Our entire TowerPlex line is a pure 100% acrylic emulsion coating that has been thoroughly tested on galvanized and other metal surfaces. Additionally, it meets all federal standards for aviation safe colors. We talked about why you can't just use any orange or white paint and meet aviation regulations in our Tower Paint 101 blog post which you can find by
clicking here
.
How the Paint Works
---
The reason why TowerPlex paint is so good for use on towers is because of the alkalinity of the paint itself. The alkaline in the paint allows it to etch itself into the zinc of the galvanized surface. This process allows the paint to form a chemical bond with the tower which subsequently allows the paint to dry quickly and maintain excellent weather resistance.
Surface Prep
---
Before you just grab some
paintbrushes
or a paint sprayer and start the job, it's important to properly prep the surface for painting. Every section you are painting must be dry and clean. Make sure that you wipe off any dirt, grime, oil, and anything else that shouldn't be on the surface. If possible, any spangle needs to be brush blasted or etched with hydrochloric acid until a weathered gray appearance is achieved.
Primer, Application, and Coverage
---
If you are painting an existing tower, be sure to spot prime any rust. If you plan on using TowerPlex paint, the best primer to use is the
TowerPlex CC2925 Rust Inhibitive Bonding Primer
. The paint can be applied from 50 to 110 degrees Fahrenheit (10 – 43 degrees Celsius). But, be sure to avoid painting if an overnight freeze is expected or if rain is in the forecast as this can prevent the paint from drying correctly. If the temperature is above 90 degrees Fahrenheit, make sure that you apply a full wet coat and overlap 50% on each pass to help avoid dusting. Applying the paint can be done with a
brush
,
mitt
, or a sprayer. For the best results, TowerPlex recommends two coats over an entire prime base. If you think you might need to paint, but you're not sure if you do or not, you can use the
FAA In-Service Orange Color Range Chart
to help you decide.
Click here
for a tutorial on how the FAA Service Chart works.
Cold Galv Work
---
If you need to do any
cold galv
work before you start painting, we've got you covered there, too.
Click here
to check out our blog post on cold galvanizing compound. →
Click here
to see our full selection of TowerPlex products →
Click here
to see our full selection of painting gear →
Click here
 
to see our Tower Paint 101 blog post →
Click here
to see our full selection of Cold Galv
**The content of this blog is not intended to replace proper, in-depth training. Manufacturer's instructions must also be followed and reviewed before any equipment is used.
TowerPlex: The Video
---
Gear Up with Gear Experts: The Podcast
---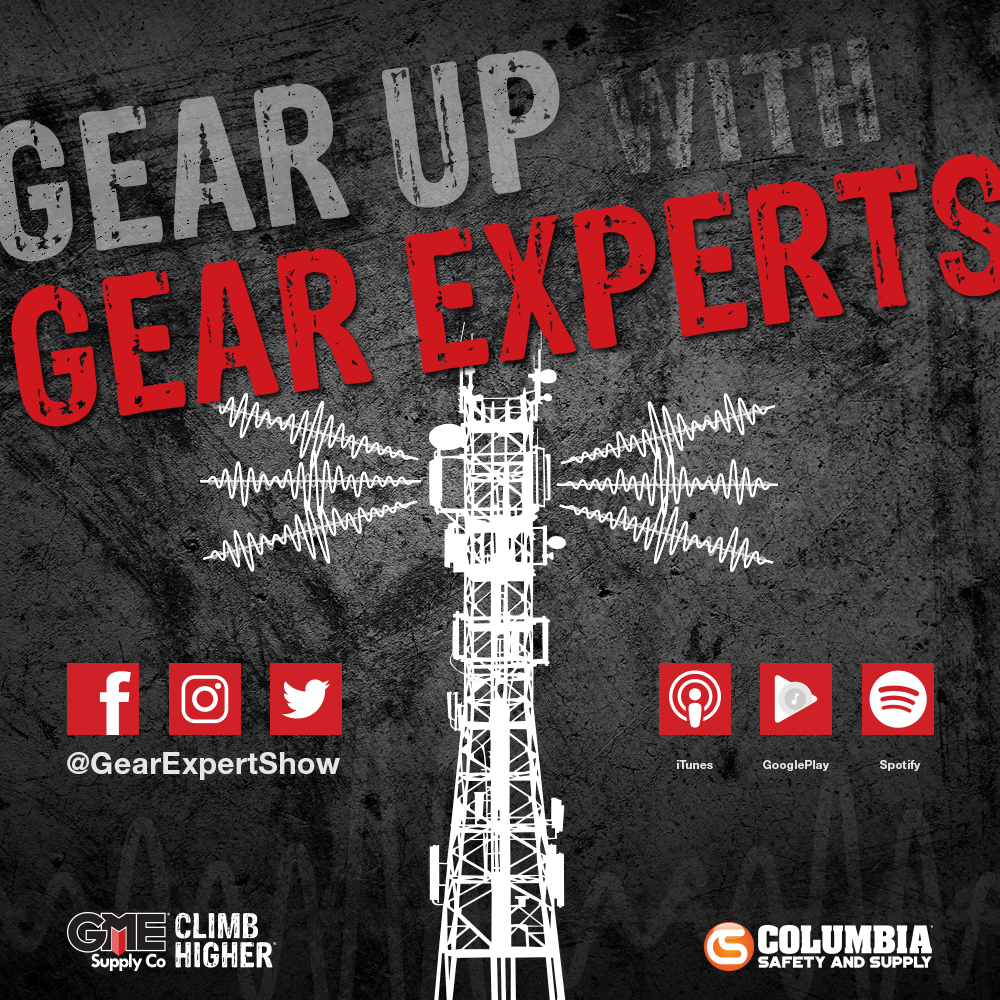 If you haven't already checked out
Gear Up with Gear Experts
, our podcast dedicated to at-height, industry, and construction, it is available for download! You can find it on all major podcast listening platforms like
Apple Podcasts
,
Spotify
,
Google Play Music
, + your favorite podcatcher of choice. And, you can head on over to
gearexperts.com
to follow us on social media, check out our detailed show notes, and sign up for updates.
Get Social
---
Be sure to follow us on social media to keep up with everything GME Supply has going on.
Facebook | Instagram | YouTube | Twitter | LinkedIn

We're Also on Snapchat
---
Simply snap or screenshot this image ↓ to follow GME Supply!