When it comes to working at-height, inspecting your equipment can make all the difference in job site safety. We've covered rope inspection in a previous blog post. You can find that post by
clicking here
. This week our
Gear Experts®
are going to provide a broad overview of the organization that sets standards for inspection.
The Cordage Institute
---
Fiber rope standards are established by an organization called the Cordage Institute. The Cordage Institute was founded in 1920 and is comprised of a group of fiber rope manufacturers, their suppliers, and affiliated end-user organizations. While the cordage institute sets a wide variety of standards for a wide variety of uses, the standard that is of interest to our industry is the International Guideline for Fiber Rope Inspection and Retirement Criteria – specifically section 4 (
CI 2001-04
).
CI 2001-04
---
As we mentioned above, section four covers fiber rope inspection and retirement criteria. This section is further broken down into sub-sections that outline the different requirements for an effective inspection and retirement program.
4.1.1
Section 4.1.1 states that the user is responsible for establishing a program for inspection and retirement that considers conditions of use and degree of risk for the application. It outlines that a program should include:
Assignment of supervisory responsibility. Meaning that an individual should be made responsible for establishing the program, training and qualifying inspectors, and preserving records;
Written procedures;
Training;
Record keeping;
Establishment of retirement criteria for each application; and
Inspection schedules
4.1.2
Section 4.1.2 states that ropes that secure or control valuable assets or whose failure would cause serious damage, pollution, or threat to life warrant more scrutiny than ropes in non-critical use. It goes on to state that if a fiber rope is used in a highly demanding application, with potentially critical risks, the advice of a qualified person should be obtained when developing the specific inspection and retirement program.
4.1.3
Section 4.1.3 states that the user should continue to revise and refine the program based on experience.
CI 2001-4.3
---
Section 4.3 covers rope inspections logs. We have talked about the importance of a rope inspection log in
this previous blog post
. This section states "An important tool for rope evaluation is a log. This will include data on the type of rope, time in service and description of intended use. The details of every inspection should be entered in the log as to date, location and conclusions. The log should include a regular inspection schedule". Most rope manufacturers include a rope log with their rope. However, if you don't think it did, or you have lost it, we provide a
free downloadable rope log
 in our
Knowledge Base
.
CI 2001-5.1.1
---
Section 5.1.1 covers rope tags. This is a tag that is attached to the rope that outlines the rope, model number, manufacturing date, MBS, and manufacturer. If this tag is illegible the rope should be retired immediately. If the rope does not come with a tag you can make your own. Also, using
shrink tube
 is an inexpensive solution to attach your tag to a rope and keep it protected.
Rope Inspection
---
Section 6 outlines rope inspection. We took a deep dive into rope inspection in
this previous blog post
. It also talks about rope care & maintenance – like rope wash which we talked about in
this blog post
.
 
Last, but not least, it covers proper rope storage. We covered rope storage in
this blog post
.
Rope Retirement
---
If a rope's tag is illegible or if it no longer passes inspection, it is time to retire the rope and purchase a new one. Rope retirement doesn't mean just throw the rope back in your truck or trailer, it means cutting the rope into pieces so small that it would no longer be useful for a crew to try and use. If you've got any questions about rope, rope inspection, or rope retirement,
click here
 to contact one of our Gear Experts®. →
Click here
 to see our full selection of rope. →
Click here
to download your free rope inspection log. →
Click here
to see all of our rope focused blog posts.
**The content of this blog is not intended to replace proper, in-depth training. Manufacturer's instructions must also be followed and reviewed before any equipment is used.
Rope Videos: The Playlist
---
Gear Up with Gear Experts: The Podcast
---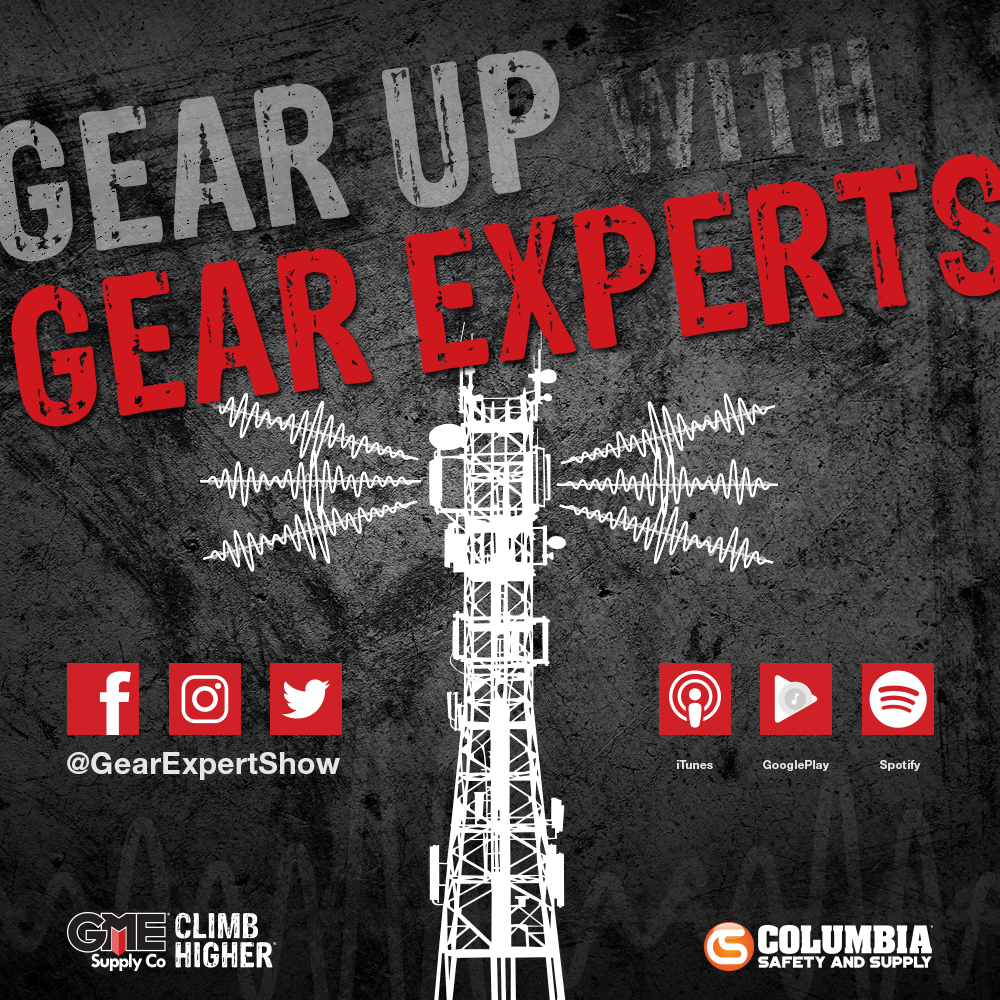 If you haven't already checked out
Gear Up with Gear Experts
, our podcast dedicated to at-height, industry, and construction, it is available for download! You can find it on all major podcast listening platforms like
Apple Podcasts
,
Spotify
,
Google Play Music
, + your favorite podcatcher of choice. And, you can head on over to
gearexperts.com
to follow us on social media, check out our detailed show notes, and sign up for updates.
Get Social
---
Be sure to follow us on social media to keep up with everything GME Supply has going on.
Facebook | Instagram | YouTube | Twitter | LinkedIn

We're Also on Snapchat
---
Simply snap or screenshot this image ↓ to follow GME Supply!