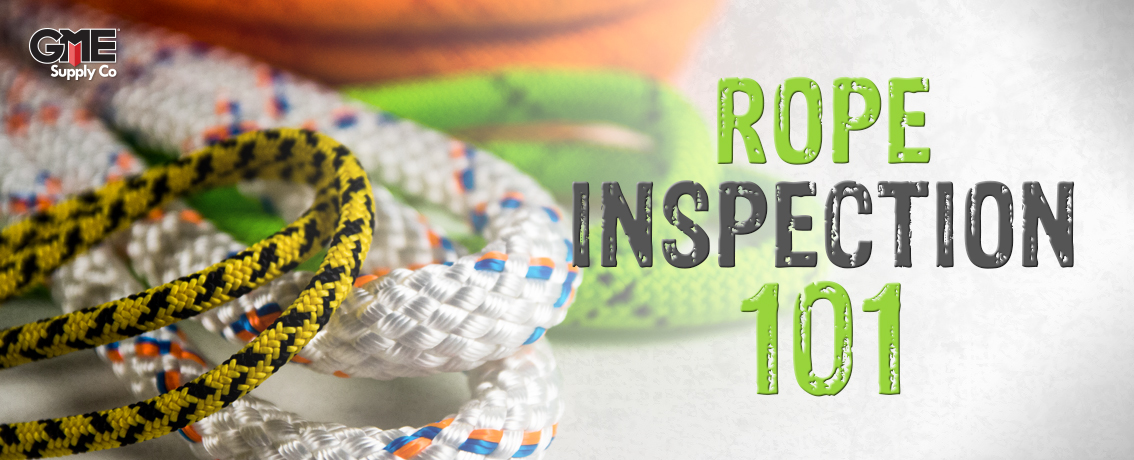 Your rope is literally your lifeline when out on the jobsite. Because that rope is so critical it should be inspected every time you use it. In this weeks blog post our
Gear Experts®
 are going to review some of the basics of rope inspection. Regardless of whether it's a life safety rope (like a
kernmantle rope
) or a rope you'd use for lifting and rigging (like a
double braid rope
) inspection is extremely important.
Rope Log
---
Before we get into what to look for during an inspection, we'd like to take a moment to talk about keeping track of those inspections. You can keep track of your inspections, making your life much easier, by using a rope log. Many manufacturers include this with the rope. If you've lost track of yours, you can download one from our
knowledge base
for free. That's right free!
Inspection
---
When inspecting a rope you need to check the entire length of the rope. The easiest way to do this is to pull it completely out of the
container
 you store it in every time you get ready to use the rope. If your rope has any of the following problems, it should be removed from service.
Glossy/Glazed:
The first thing to look for is glossy or glazed areas in the length of the rope. This can be caused by heat damage or compression.
Diameter:
Next, you should look for inconsistent diameter. Look for flat areas, bumps, or lumps in the rope. This can be a sign of core or internal damage from overloading or shock loads.
Discoloration:
Discoloration can also be a sign of loss of strength. Ropes get dirty, but if the discoloration is from excess sun exposure or chemicals, the rope should be removed from service. Determining if discoloration is from dirt and grime or something more like sun exposure or chemicals is much easier if you regularly clean your rope with
rope wash
.
Texture:
Inconsistency in texture or stiffness can indicate dirt or grit has gotten embedded in the core of the rope. It can also be a sign of kinks or improper twisting during storage or use.
Wear:
Obviously any kind of burns, cuts, knicks, or excess wear on the sheath is also a sign that the rope needs to be removed from service.
Falls:
Another thing to note in your rope log is if any fall has been taken on the rope. For something like a
3-strand lifeline
, if you take a fall hard enough to deploy a shockpack, many manufacturers recommend removing that rope from service. Refer to the ropes tech notice for more information on this.
**The content of this blog is not intended to replace proper, in-depth training. Manufacturer's instructions must also be followed and reviewed before any fall protection equipment is used.
For more information on full in-depth training courses please
click here
. Have questions about rope or need help finding the rope you need?
Click here
to contact one of our Gear Experts
®.
Rope Inspection 101 Video
---
Get Social
---
Be sure to follow us on social media to keep up with everything GME Supply has coming up in 2018. It will be exciting – we promise!
Facebook | Instagram | YouTube | Twitter | LinkedIn | Google+