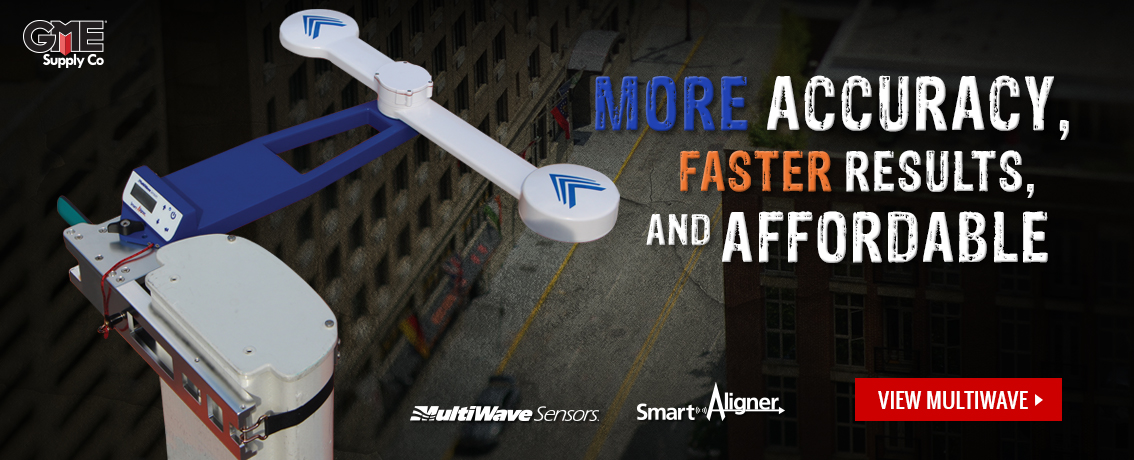 This week GME Supply is focusing on telecom tools and our blog is no different! Over the past few years, we have seen our customers begin to adopt and use antenna aligners. Antenna aligners help increase accuracy and save time while working with a wide range of antennas. This week our
Gear Experts®
 are going to talk about the
MultiWave SmartAligner
.
The MultiWave SmartAligner
---
This device is a GPS-based compass that has been designed to effectively and efficiently align your antennas in real time. This aligner was developed to be easy to use and offer unparalleled accuracy while providing a True North or Grid North azimuth measurement along with tilt, roll, and position. Once the system is mounted to the antenna, it is simply turned on. From there the user interface is the full feature app on any iOS and Android smart device.
Click here
to see a video on the app and how to use it. Reporting with this antenna aligner is as simple as a few clicks with the report able to be emailed directly from the app. The system has been tested in the harshest RF live antenna environment while still maintaining its accuracy. The SmartAligner solution is an accurate, fast, and scalable antenna alignment tool creating an effective solution for all your alignment needs.
Features
---
The MultiWave SmartAligner is jam packed with features. It is the first ever foldable GPS alignment tool and comes with a universal mounting bracket. It has the ability to be mounted in multiple configurations to prevent issues with spatial and RF conditions. For a complete breakdown of the features, specifications, mounting configurations, modes of use, approved carriers, turf vendors, and firms
click here
.
Special Financing
---
We offer special
equipment financing
on all of our antenna alignment tools. Our financing program has 3 easy steps so that you can get your tools now so you can head out to the next job site.
Step 1: Pay advance finance payment
→ Pay 20% of the equipment cost as a down-payment. This is the first month's finance payment. → Example: $5,000 equipment cost = $1,000 (down payment)
Step 2: Calculate the Monthly Payment
→ Subtract the down-payment from the equipment cost. Then divide this by the 11 remaining months. (No interest is added to the 11 months) → Example: $5,000 equipment cost - $1,000 (down-payment) = $4,000 divided by 11 months = $363.64 per month for the remaining 11 months.
Step 3: Buy out for $1.00
→ You will own the equipment at the end of the finance term for $1 For more information
click here
to view our financing details or
click here
 to contact one of our gear experts and start the financing application. →
Click here
to see the MultiWave SmartAligner →
Click here
to see our available accessories
MultiWave Smart Align Training Videos
---
Get Social
---
Be sure to follow us on social media to keep up with everything GME Supply has going on.
Facebook | Instagram | YouTube | Twitter | LinkedIn

We're Also on Snapchat
---
Simply snap or screenshot this image ↓ to follow GME Supply!