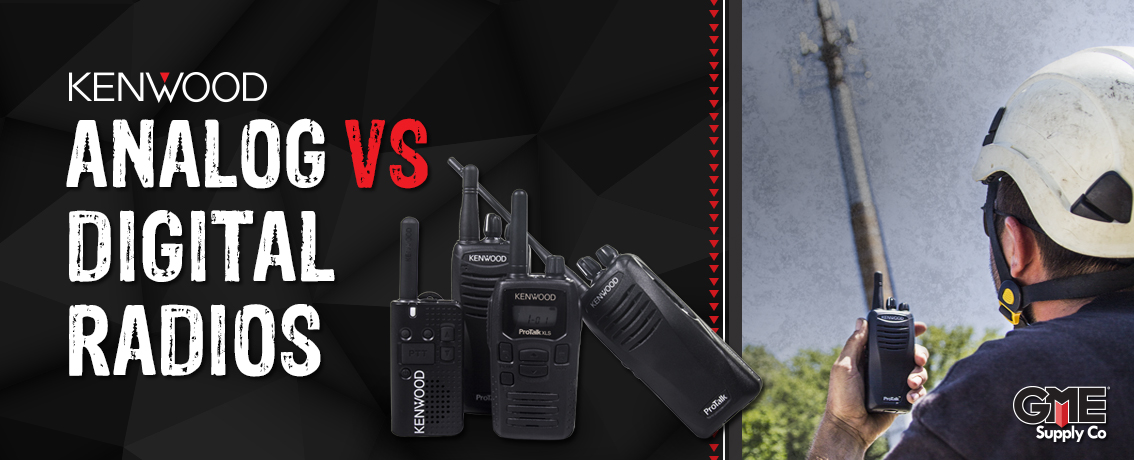 The digital age has arrived and almost everything is digital. Your two way radios are no different.  So, should you go digital? Is there any real difference between digital and analog? In this week's blog post our
Gear Experts®
are going to compare the difference between digital and analog radios.
The difference.
---
What's the difference?
Clarity:
The biggest, and perhaps the most important, difference is clarity. The digital radios are much clearer than their analog counterparts. What makes the digital radios so much clearer? It is because they feature built-in error correction. This correction removes random chatter, extra background noise, and static interference. It also helps clean up distorted voices.
Coverage:
Digital radios have a 20 percent increase in coverage over analog radios.
Battery Power:
Digital radios consume less energy. This means that your battery lasts longer.
Privacy:
Digital radios provide added privacy. This is due to the way that digital signals are transmitted and received.
Is there Compatibility?
---
Yes! There is no reason to get rid of all of your analog radios. Our selection of digital
Kenwood radios
 have two compatible zones. This allows the digital radios to pick up the analog channel. The nice thing about this is that you don't have to upgrade all of your radios at once. As they need to be replaced you can get digital radios. Then, once you've replaced all of your old analog radios you can just switch over to the digital frequency.
Warranties
---
Worried about going to a digital radio? Well, worry no more. The
digital radios
from Kenwood come with a 3 year warranty. That's longer than most standard radio warranties and longer than the 2 year warranty on the analog Kenwood radios. Need help finding the perfect radio, or have questions about our two way radio selection?
Click here
to contact one of our Gear Experts
®
. →
Click here
 
to view our full selection of Kenwood Radios & Accessories. →
Click here
 to view our full selection of Two Way Radios.
Digital vs. Analog Two Way Radio Comparison Video
---
Get Social
---
Be sure to follow us on social media to keep up with everything GME Supply has coming up in 2018. It will be exciting – we promise!
Facebook | Instagram | YouTube | Twitter | LinkedIn | Google+

We're Also On Snapchat
---
Simply snap or screenshot this image ↓ to follow GME Supply!