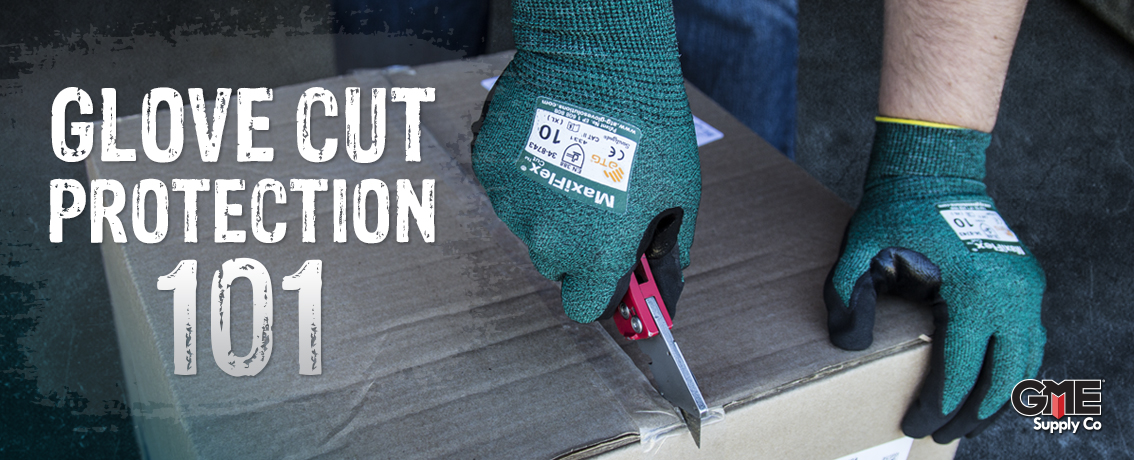 Your hands are your trade and protecting them is a priority. When looking at gloves one of the most important things to look at is how effective those gloves are at protecting your hands from sharp and abrasive material. Here at GME we pride ourselves in being your Gear Experts®. Below we will review the cut protection standard (ANSI/ISEA 105-16), outline the what's what when it comes to cut-resistant standard requirements, and break down how the materials are tested so that you have the knowledge you need to find the right gloves for the job at hand.
ANSI/ISEA 105-16 (2016)
---
First, we should look at ANSI 105-16. This standard outlines the requirements for cut level protection to protect workers from abrasive and sharp material handling. It was previously revised in 2005 and 2011 and the new revision was done to provide additional cut levels. ANSI 105-16 features nine cut levels, significantly reducing the gaps between each level to better define protection levels for cut resistant gloves and sleeves.
General Requirements
---
The changes in this standard include the new classification levels, which includes a new scale to determine cut score, as well as a revised method for testing gloves to the standard. Â The classifications are broken down into 9 cut levels (A1 through A9).
The cut levels represent the durability of the glove material based on the gram measurement of force used behind the blade during testing. The new standard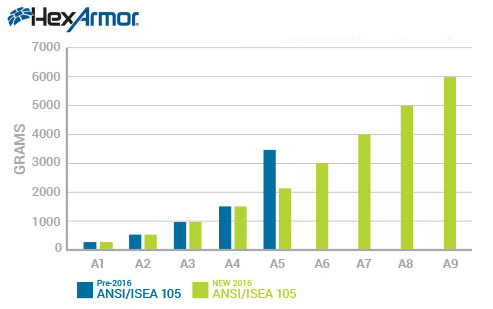 spans 0 grams to 6,000 grams of cut resistance. The standard update also changes the way testing can be done. The new ASTM F2992-15 test method requires that the TDM-100 (tomodynamometer) be used to test the cut resistance of the glove. The old testing method allowed two different machines to be used, but by limiting the testing to one machine ANSI can ensure uniform testing by every manufacturer.
This graph from HexArmor shows the difference between the old and new scale. As you can see, there are much smaller ranges which specify the added rate ratings which allow you to make a specific decision based on your needs.
Testing Standards
---
The testing standard for cut resistance is done by taking a sample of the material and cutting it. The TDM determines the amount of weight, measured in grams, necessary for a blade to cut through the PPE material when it travels 20 mm across the surface of the material. Previously it required 25 mm of travel.
The sample is held down by a sample holder and a straight-edge blade, under the predetermined load, moves along the material in a straight line. This sample is cut a total of five times with three different loads. Each time the sample is cut a new blade is used to ensure that the blade is sharp.
Look for markings on both packaging and directly printed on the glove which outline what specific cut rating each glove is designed to protect against.
We have a large selection of cut-resistant gloves to fit all of your needs. With winter in full swing thermal gloves are the go-to selection for many of our customers. We have a wide range of thermal gloves that also provide superior cut protection. If you need help finding the right gloves for you please contact one of our Gear Experts®.
Want to know more? Our Knowledge Base houses information about PPE & Work Wear, equipment, and standards that at-height workers need to know. Click here to visit our knowledge base and as always: Climb Higher®!
Get Social
---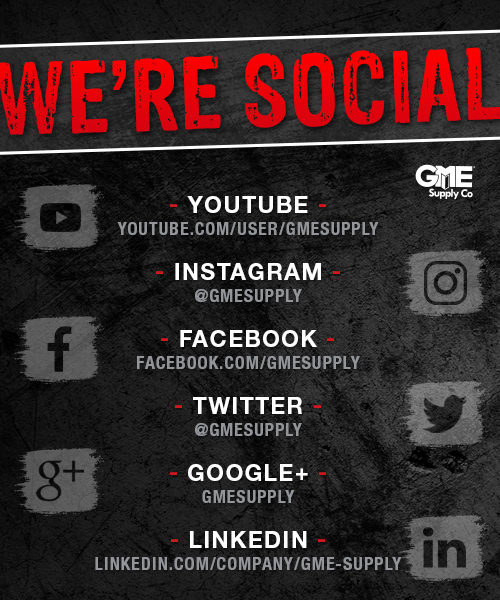 Be sure to follow us on social media to keep up with everything GME Supply has coming up in 2018. It will be exciting - we promise!
Facebook | Instagram | Youtube | Twitter | LinkedIn | Google+