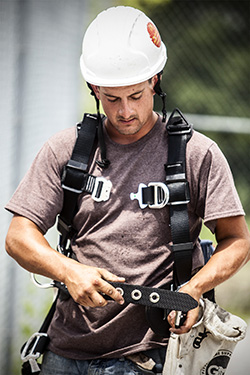 It doesn't matter if you have a 1 or a 6 d-ring harness. Construction, Tower, Oil and Gas, or even a rock climbing sport harness... If your harness doesn't fit correctly, you're gonna have a bad time.
An ill-fitting harness isn't just unsafe; it's probably uncomfortable as well. If you're wearing your harness correctly, you really shouldn't even notice that it's there after a while. You get used to it. If you have a harness that's digging in, pinching, or rubbing in a certain area, there's a good chance you're wearing it wrong.
The most common problem with harness fit that we see is the chest strap. A lot of climbers wear it too low. It should fit straight across your chest, nipple to nipple. If it's too low, you could roll out of the harness when your shoulder strap slips. Too high and it'll ride up under your chin and either choke you or give you a nasty cut.
Next big issue is the leg straps. You REALLY want these to be tight on your legs. Wearing them loose might seem like it gives you more room to move around, but in the event of a fall.. BAD THINGS HAPPEN! If your leg straps are tight, during a fall they'll grab onto your legs and catch the majority of the weight. If they're loose, they'll slide up your legs, and whatever they hit will absorb the energy. If you know… what we mean. Yeah… not good!
Check out our How to Don and Fit Your Harness video to see a step-by-step of putting on and properly adjusting your harness.
Even if you've been working in your harness for a while, it'd be worth a once-over to make sure it's still fitting like it was designed to. If you have any other questions about harness fit, or aren't sure what size harness you need, give us a call or chat us online!