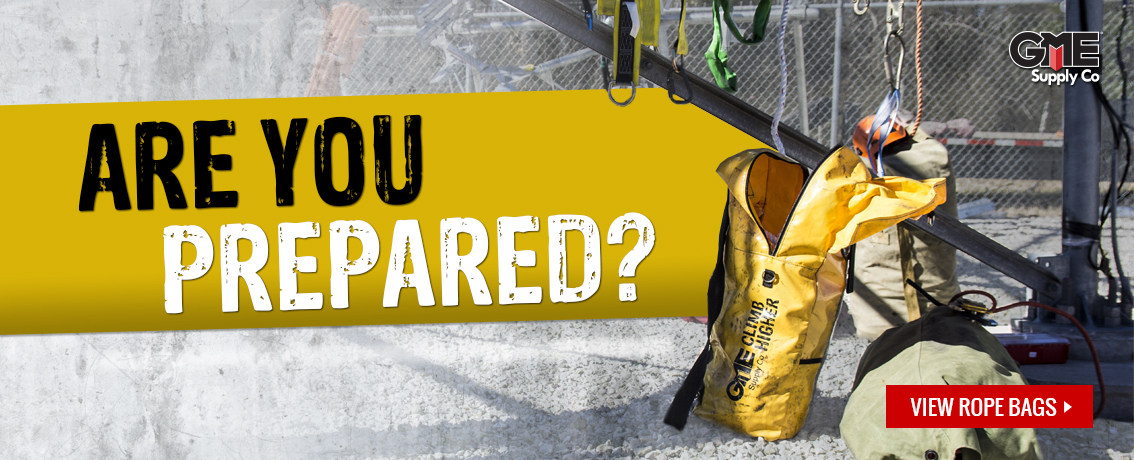 Rope
, it's something that every at-height worker needs on a job site, but it's not always the easiest part of your gear to transport. Imagine getting to your location – ready to get the day started – and having to spend an hour untangling your rope, just to find out that it accidentally got cut in your trailer while being transported. Not only did you waste an hour of your morning, but now you have to take that rope out of service because it is no longer safe to use. This week our
Gear Experts®
are going to cover
rope bags
and things to look at when you're on the hunt for one.
Rope Bags
---
Rope bags are pretty self-explanatory. They are bags designed to hold and transport rope (we were shocked when we first found out too…). While all rope bags have the same purpose, to store and transport rope, there are a few things to consider when looking at rope bags.
What to Look for in a Rope Bag
---
When you first look at the selection of diverse
rope bags
 that are available it can be overwhelming. But, if you break down all of the different features, and what will suit your rope and your unique application it can be pretty simple. Some things to consider are color, size, document pockets, additional storage compartments, applications, and straps.
Color
Color is more of an organizational benefit than anything. Having ropes of different types (
Kernmantle
,
Double Braid
, or
3-Strand
) or ropes for specific applications in different colored bags can help keep you organized and streamline the process of grabbing the specific rope you need when you need it.
Size
Ropes come in a range of sizes – and that means that rope bags do, too. Going through dozens of rope bags individually to try and find the size you need can take a lot of time. That's why we made this handy chart.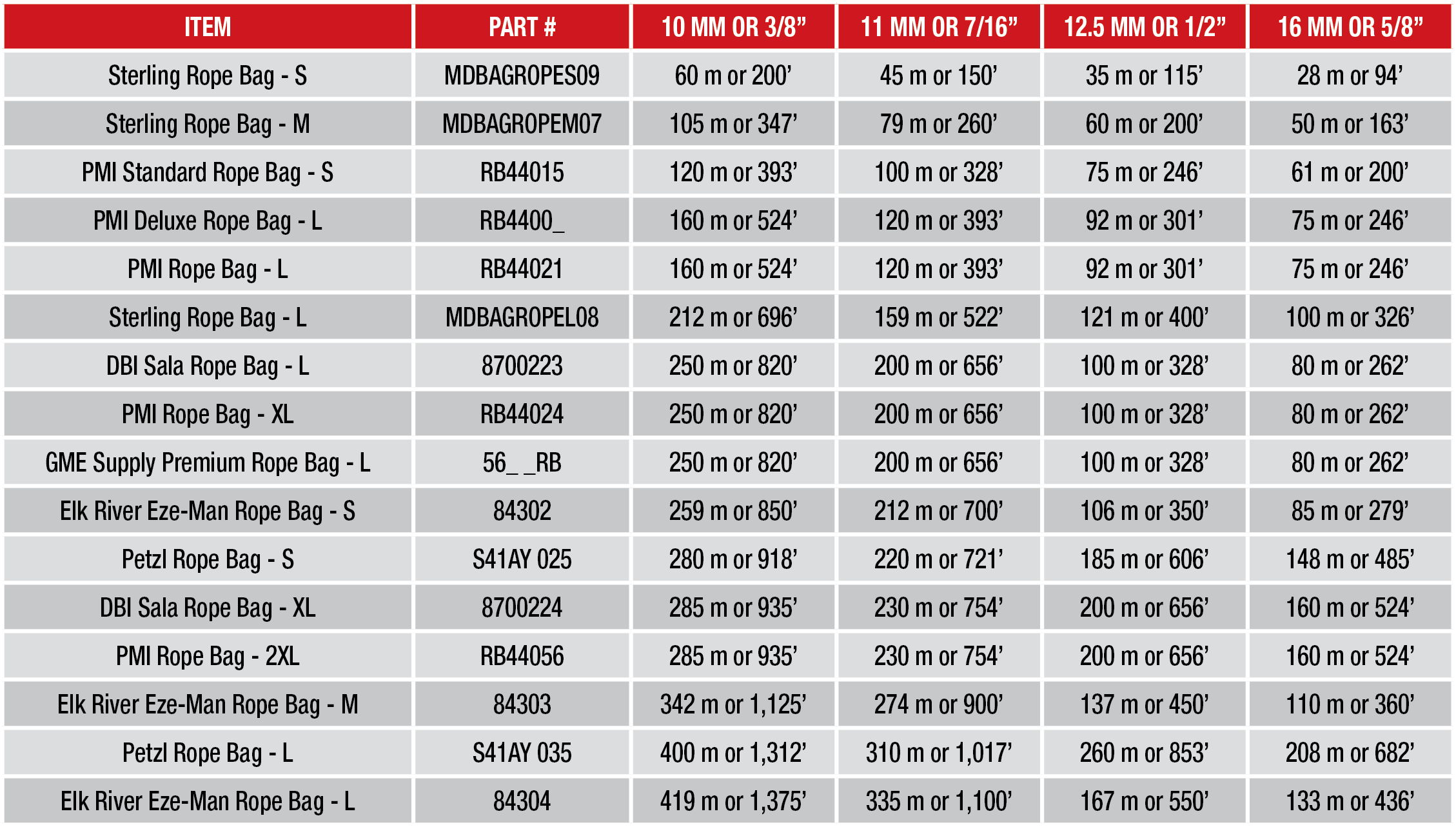 Document Pockets
Document pockets make staying safe and compliant easy, they also allow for quick labeling. Many rope bags feature document pockets where you can store your
rope inspection forms
, labels to help keep your gear organized and any other pertinent information about your rope. We cover rope inspection in this
blog post
.
Additional Storage
Some rope bags simply store rope, but sometimes you need more out of your bag. If you want the ability to store additional gear, like carabiners, you'll want additional pockets in your bag.
Applications
Most rope bags will work for all of your applications, but there are some situations where specialty or unique bags may serve a better purpose. For example, if you are going to be around a lot of water – having a waterproof bag can prevent your rope from getting damaged. If you don't typically work around water, then a bag that has small holes in the bottom (gusseted) to allow the rope to breathe will be sufficient. One important aspect of rope care is washing your rope – if you want to use a washing machine you'll need to put your rope in a
laundry bag
.
Straps
The last thing on our list of considerations when picking a rope bag is what type of straps it has. The rope bag is great for storing and protecting a rope, but it still has to be carried around the job site. Having comfortable straps is always something to keep in mind, as well as if it has one strap or a setup more like backpack straps. If you need more information about choosing the right rope bag or would like help picking the bag best for you,
click here
 to contact one of our Gear Experts®. →
Click here
to see our full selection of Rope Bags →
Click here
 to see our full selection of Rope →
Click here
to check out all of our rope related blog posts
Get Social
---
Be sure to follow us on social media to keep up with everything GME Supply has going on.
Facebook | Instagram | YouTube | Twitter | LinkedIn

We're Also on Snapchat
---
Simply snap or screenshot this image ↓ to follow GME Supply!