Lifting and rigging is a common job when working at a tower site, but if not done correctly, it can be very dangerous!
There are a lot of things that you need to focus on while doing any lifting and rigging work. It is a job that has the potential for many dangerous situations. A safe rigging operation requires the rigger to know the weight of the load being lifted, along with the weight of the hardware being used, the capacity of the hoisting device, the working load limit of the hoisting rope, slings, hardware, etc… there's a lot to keep track of!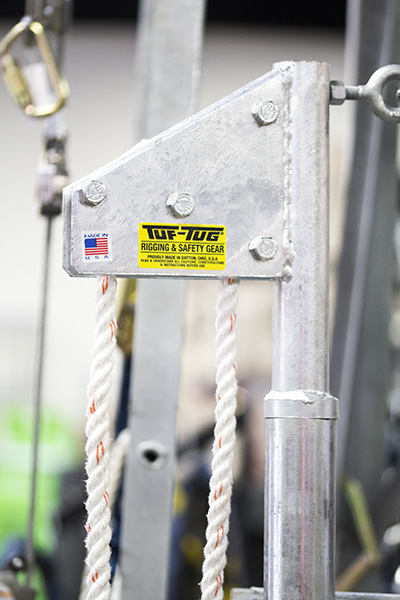 Luckily, Tuf-Tug has a product to help reduce the intricacy of your lifting and rigging operation. The DAS/LTE 2 Inch Antenna Pipe Rooster Head slides directly into a standard 2" pipe mount at the top of a tower. It makes it quick and easy to hoist antennas up the tower and into position. The device is constructed of solid, heavy-gauge steel and finished in a hot-dipped galvanized coating.
The rooster head has a 4" pulley with an oversized groove to keep the lifting rope in place. It is made for 1/2" rope or 3/8" wire rope. While the maximum lifting capacity is 250 lbs, that is more than enough for a DAS or LTE antenna. It's a great device for tiger teams to get their tools to the top of a tower, or for decomm work.
Check out our video that goes over the Tuf-Tug Rooster Head to see it in action. And head over to our lifting and rigging page to get the rest of the gear to get the job done. If you don't see what you need, or have any questions, give us a call or chat us online using the box below to the right!