Rock Exotica has been innovating "Gear for the Z Axis" for over 25 years. They started in a garage, but they've come a long way since then. But that doesn't mean they've changed their ways. They still make all of their gear right here in the US. They're based out of Utah, so they're not far from a lot of the places their carabiners, pulleys, swivels, rigging plates, ect., are used.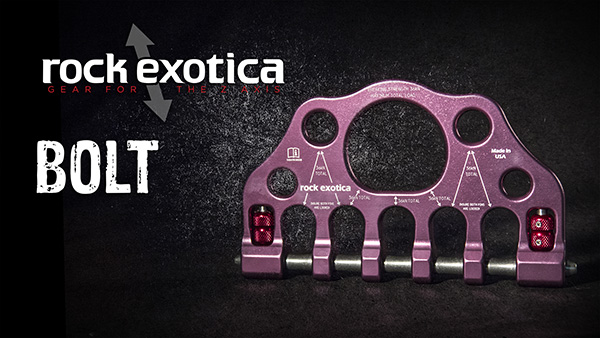 Their Bolt Rigging plate uses a quick detachable stainless steel rod, or bolt, that allows quick connection for pulleys. No carabiners are required with this plate, so you can save room and weight in your rigging setup. Which is nice.
Plus, since there are no carabiners, you don't run the risk of getting your pulleys, and your ropes, twisted. The Bolt is constructed from a single oversized piece of material, so it looks as great as it performs. The aluminum rig is only 19 ounces light, and has a maximum breaking strength of 36 kN.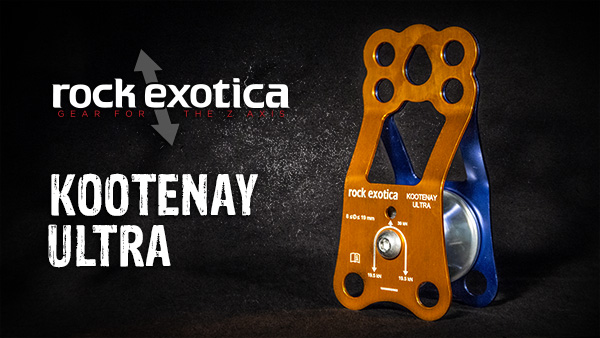 The Kootenay was originally designed by Rock Exotica in the 80's. Since then, it's been imitated by many different companies. Made for passing knots, the sheave is 2.2 inches wide and has a maximum breaking strength of 39kN.
Setting it apart from other knot passing pulleys, the sheave can be locked down for high strength tie-off using the included pin, which is stored in the axel of the device when not in use. Once you wrap your rope around the sheave a few times, similar to a capstan, you can lower heavy loads with ease.
Check out all the great products from Rock Exotica here.