PIP has a wide variety of safety gear and PPE. From hand and eye protection to ergonomics, first aid, protective clothing, and more, they offer products for many categories. Their heat management and cooling lines are engineered and designed to keep you cool and comfortable while you're working.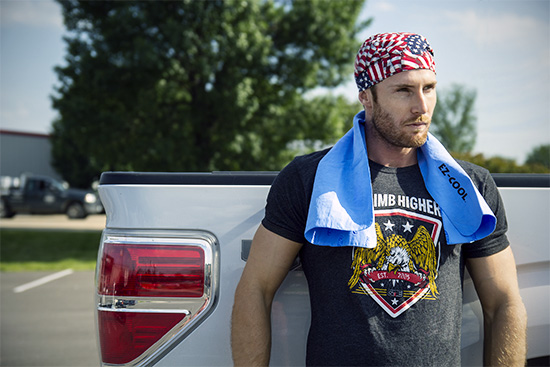 If your job requires a safety helmet to protect your dome, the 396-400 EZ-Cool Cooling Hard Hat Pad is for you. It's made from polycotton material with integrated cooling crystals. Just attach it to your hard hat's suspension with the easy hook and loop closure and it will keep you cool for hours. Activate it by dipping it in cold water for 10-20 minutes, squeeze out any excess water, install it and then get to work… comfortably. There's also a version with a built in neck shade to keep the back of your neck from getting crispy.
PIP also has very comfortable cooling tie hats which tie around the back of your head for a secure fit, and use evaporative cooling to keep you comfortable. The 396-300 is made from polycotton with cooling crystals and is available in navy blue, cowboy blue, and American flag print. This is great for keeping the sun from beating down on your head, plus it keeps you cool at the same time.
Finally, the 393-100 evaporative cooling bandana is available in a variety of colors and is made from polycotton material with cooling crystals. Its cooling effects last for hours and it's comfortable to wear around your neck to keep cool in warm environments. Pair that with the 396-602 cooling towel that will always feel cooler than ambient temperature. It can be trimmed down to wrap around your wrists, head or even go inside a ventilated cap.
Watch the video above, then head over to our cooling page to see everything to keep your temperature down when the heat is on.