FallTech
has been outfitting people when they're exposed to fall hazards at work for over twenty years. Their complete fall arrest system addresses every part of fall safety. They reference the ABCD's of fall protection: Anchorage, bodywear, connectors, and deceleration devices.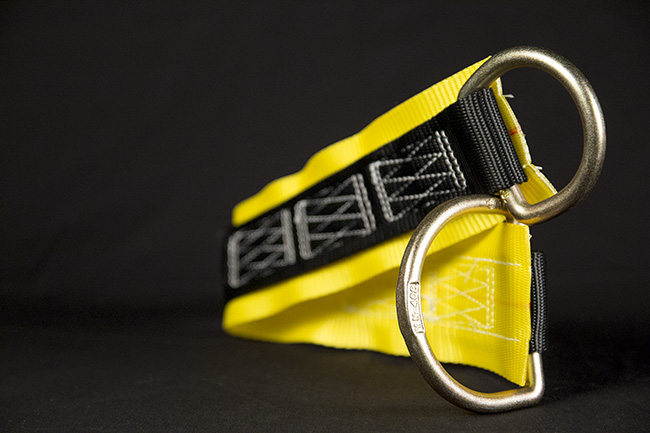 Pass-Thru Anchor
straps are some of the most popular today. They're constructed of heavy-duty 1-3/4 inch polyester webbing, which is sewn onto a 3-inch wear pad to protect against abrasion and cuts. Ideal for I-Beams and other rated structural members, the standard D-ring passes through a larger D-ring, and the anchor strap is cinched tight for an anchorage point rated at over 5,000 lbs. This anchorage sling is ideal because it can be removed and used over and over again.
FallTech 7084 ComforTech Tower Climbing Harness
is ultra-comfortable, which makes it a great choice for workers that are up on a tower all day. The removable seat has an aluminum bar with extra padding for support, and the shoulder and leg pads are also removable. This makes washing simple to help combat stink. The harness is completely adjustable, so you can make it fit perfectly. The quick-connect chest, and tongue-buckle waist belt and leg straps make donning and doffing simple. It comes in four different sizes, so check our sizing guide to pick the right fit.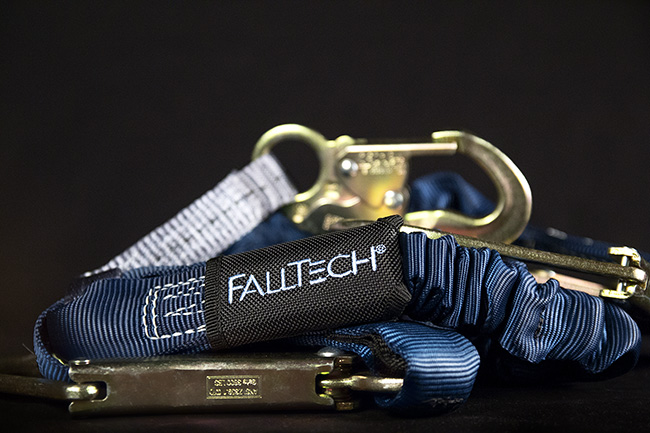 8240Y3 ElasTech Lanyard
combines safety and versatility with convenience and thriftiness. This ANSI Z359 twin-leg lanyard stretches from 4.5-6 feet, so it doesn't get in your way while you're climbing. It has a snaphook to attach to your dorsal-d, and large rebar hooks for tie-off. In the event of a fall, the built-in shock absorber limits arresting forces to 900lbs or less.
personal SRD's
are the smallest on the market. The abrasion resistant webbing is cycle tested, and there's no shock pack to get in your way. The Self-Retracting Lifeline comes with multiple connector choices, and is also available in a twin-leg version for 100% tie-off. See all of
FallTech's gear here
, and if you have any specific questions, give us a call or chat us on the bottom right of the page.