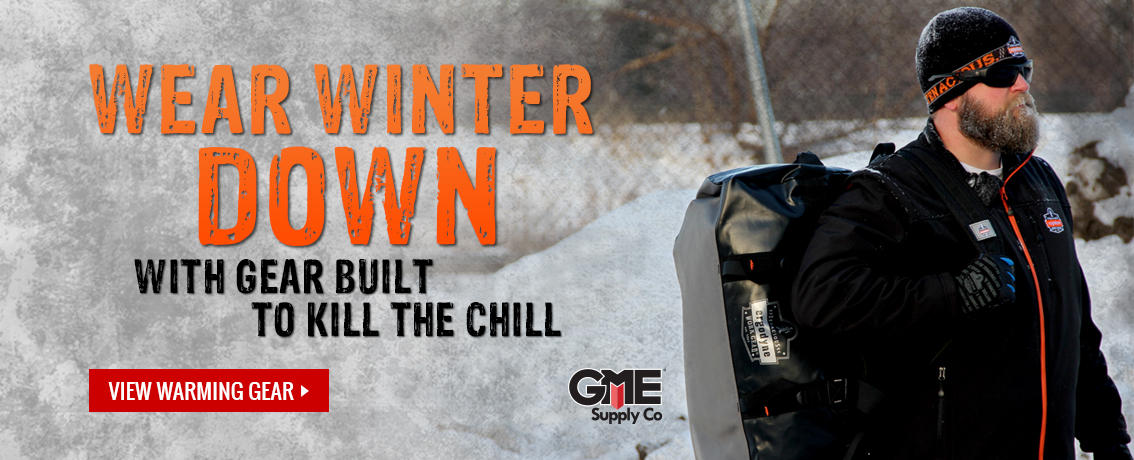 It seems like just yesterday we were focusing on heat and how to work in it. But, with winter in full swing, it's time to talk about the cold. This week our
Gear Experts®
are going to discuss cold stress and how you can combat it while on the job site.
Cold Stress
---
Cold stress isn't something that people typically talk about. While heat stress is mentioned often and everyone at least knows a little bit about it cold stress doesn't get nearly as much coverage. But its effects can be just as damaging to your body. So, what is cold stress? Cold stress occurs when your body can no longer maintain its normal temperature. When your skin temperature drops low enough it can begin to lower your internal body temperature. To maintain your vital organs, the body reroutes blood away from your external extremities in an effort to keep your core temperature up. This blood flow change can cause serious complications or even death. When gauging whether or not cold stress is a threat keep these 3 things in mind:
→
Dampness & Windchill
→ Pre-existing health conditions and poor physical conditioning
→ Improper attire
Cold Stress Injuries & Illness
---
Cold stress, like heat stress, can cause serious illness. Common injuries and illnesses of cold stress include:
→ Hypothermia:
A dangerously low body temperature that can result in gangrene or death.
→ Frostbite:
The freezing of body tissue (usually skin) that results when the body redirects blood flow away from the outer extremities.
→ Trench Foot:
A foot condition caused by overexposure to cold water or mud. Causes the surface tissue of the foot to die and turn black.
Staying Warm
---
While the threat of cold stress is serious, the solution to prevent it is simple: dress properly. Dressing for cold weather is the most important and effective precaution you can take to reduce the chances of cold stress. Here are some of our favorite options when it comes to protecting yourself from the cold:
Ergodyne 6466 N-Ferno Thermal Jacket
---
The
Ergodyne 6466 N-Ferno Thermal Jacket
is your first line of defense against winter weather. Let's break down what makes this jacket so effective. On the outside, it features a 500D Nylon body with 1600D Nylon reinforced zones in the upper arm and shoulder section to protect from wear and tear. It also features a waterproof coating to prevent liquid from making contact with your skin (remember that dampness can lead to cold stress). The inside is made of
3M
 Thinsulate insulation which provides top-notch warmth with a quilted layer for comfort. This jacket isn't short of storage either. Whether you are carrying
 
hand warmers
 or something like a
two way radio
this jacket can handle it. It features two exterior pockets on the front and back and it has an interior device pocket. The YK zippers and spandex cuffs on the arms help seal out the cold and keep you nice and warm.
Milwaukee M12 Heated Jacket
---
The Milwaukee M12 Heated Jacket comes in a variety of colors and styles. It is also available in a "kit" version that includes a battery and charger. This jacket combines toughness and technology to redefine layering on the job site. The key feature of this jacket is the carbon fiber heating element that creates and distributes heat across the chest and back. The jacket is powered by an
M12 Red Lithium Battery
that provides 8 hours of runtime. It also features a one-touch LED controller that allows you to choose from 3 heat settings per zone. The three zones are chest, back, and front hand pocket (the chest and back zone can be adjusted independently from the front hand pocket zone). Now, let's talk about toughness. This jacket is made out of 900D ripstop polyester with nine riveted reinforced pockets (including battery pocket). It features integrated knit cuffs, an exterior storm flap, and a drop tail extended back for maximum comfort and coverage. And, most importantly, it's washer and dryer safe so you can get it dirty and throw it in the laundry without having to worry about a thing. Cold stress is no joke, but it's pretty simple to prevent. If you need help finding the perfect winter solution for you and/or your crew or you just have questions about cold stress –
click here
 to contact one of our Gear Experts®. →
Click here
 to see the Ergodyne 6466 N-Ferno Thermal Jacket →
Click here
to see the Milwaukee M12 Heated Jacket →
Click here
 to see our full selection of winter gear →
Click here
 to see our full selection of Ergodyne gear →
Click here
to see our full selection of Milwaukee gear
Cold Stress 101: The Video
---
Get Social
---
Be sure to follow us on social media to keep up with everything GME Supply has going on.
Facebook | Instagram | YouTube | Twitter | LinkedIn

We're Also on Snapchat
---
Simply snap or screenshot this image ↓ to follow GME Supply!