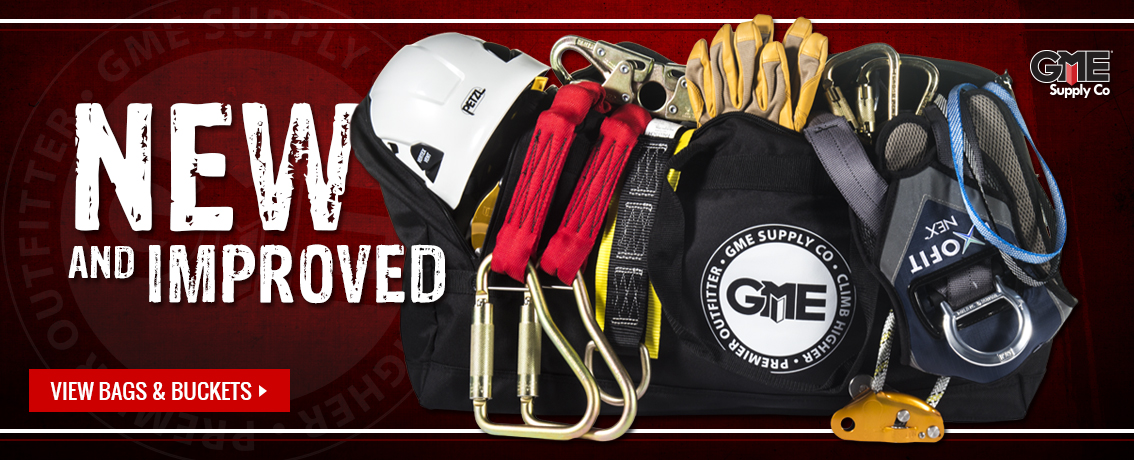 Let's talk bags and buckets. On the job, you've got a lot of gear to haul around. Having the right gear bag or bucket to protect your gear keeps you organized, extends the life of your gear, and makes your job easier. This week our
Gear Experts®
have put together a buying guide to help you find the bags and buckets that will work for you.
Style and Variations
---
The biggest decision in buying a bag or bucket is in the style and variations. The style and variations of your bag or bucket will be dependent on what you need to carry, how much you need to carry, how protected it needs to be, and where you need to carry it.
Bags
Rope bags
tend to be cylindrical in shape and provide moisture resistance.
Equipment bags
, on the other hand, come in a range of sizes and shapes. Which one is best for you depends on what you need to carry and how much storage space you need. Duffel bags typically feature multiple pockets and come in a variety of materials. If a duffel bag isn't your style, there are a range of equipment backpacks as well. Equipment backpacks offer many of the same features as the duffel bags but remember – if you need to carry a ton of equipment a backpack may not be able to hold all of it. If tools are what you carry the most, a tool bag could be the perfect solution. Tool bags are typically made of canvas. Some feature pockets for organization and some don't. They typically have reinforced bottoms to increase durability and the amount of weight they can carry.
Buckets
Buckets
share a lot of similarities with tool bags because most often the items that are put in buckets are tools. Buckets typically feature a canvas exterior with a tapered or reinforced bottom. We offer a large selection of buckets so that you can find the perfect one. So what kind of variations are most common in buckets?
Handle:
Typical handle styles include canvas or rope.
Attachment Points:
If you need a bucket that can go up the tower with you we've got you covered. We have buckets that can strap on your belt and buckets that feature swiveling hooks for easy connection.
Top:
Traditional canvas bucket doesn't have a top – but we understand that sometimes keeping a lid on things is a good thing. Buckets typically come with 3 "top" options: no top, attached top, and removable top.
Space/Compartments:
Overall buckets are smaller than bags. They aren't commonly used to transport a large number of goods. When it comes to compartments, though, there is a wide variety. Some buckets have no compartments (except for the main one) and some have many different compartments inside so that you can organize your tools. Not sure what kind of bag or bucket you need? Click here to contact one of our
Gear Experts®
.
[insert link here]
**The content of this blog is not intended to replace proper, in-depth training. Manufacturer's instructions must also be followed and reviewed before any fall protection equipment is used.
→
Click here
to see our full selection of bags and buckets.
Bags & Buckets Playlist
---
Get Social
---
Be sure to follow us on social media to keep up with everything GME Supply has going on.
Facebook | Instagram | YouTube | Twitter | LinkedIn

We're Also on Snapchat
---
Simply snap or screenshot this image ↓ to follow GME Supply!