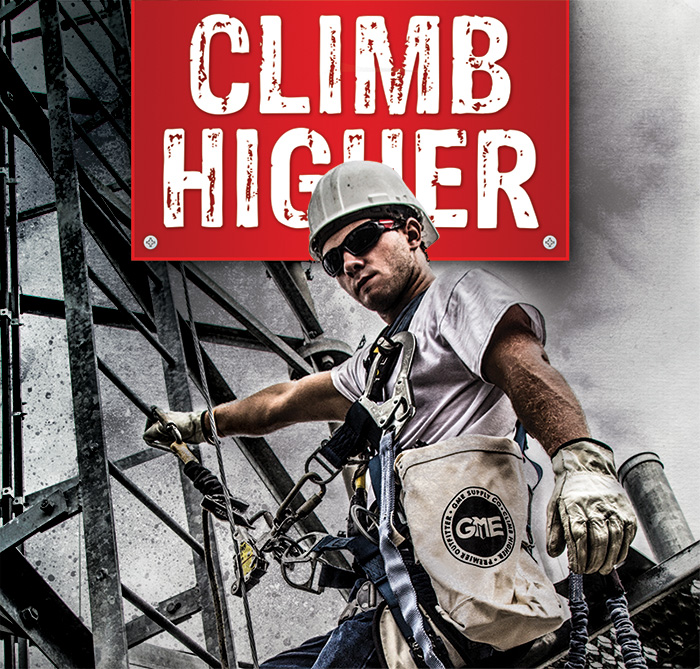 We deal with a lot of numbers throughout the year. And to close out 2014, we reviewed 'em all and pulled out some highlights. Some are business, some are office nonsense. Check out the list below!

1 – Canadians On Staff
Our skilled ice skater count also increased by 100%. He's even a hockey coach, eh!
3 – Personal Trainers on Staff
There are frequent pushup breaks in the middle of the office, and pull up contests on the fat grips in the warehouse. This also explains the plank challenge below.
4 – Employee Injuries Due to Recreational Sports
A separated shoulder, a probably broken nose, tendonitis of the hip, a hairline fracture or two… Fortunately, we have health insurance.
6 – Seats on Industry Boards and Committees
Including TIRAP, Wireless Industry Safety Taskforce, and Manufacturing and Engineering Committee just to name a few.
7 – Beards Grown in November
There wasn't an end goal, and nobody knows when the facial hair phenomenon started, but for a while there we had a pretty lumberjack-looking workforce.
8 – Ping Pong Based Term Negotiations
The addition of ping pong and air hockey to our conference room helps make the days go by a little faster, and can even facilitate some business deals.
25 – Robert's Fruitless Deer Hunting Trips
"Half of the time, I didn't even see a single thing," Robert said, "There were even some three day weekends in there. Never even drew the bow." We're still holding out hope that he'll get one.
26 – Decibel Server Volume Increase
While the upgrade does have 300% more storage capacity, and 4 times the processing power, it also sounds like there's a tornado made of jet engines cooling the thing. If the door is open, the sales guy sitting closest to it has to, by law, don ear protection.
28 – Hosted Supplier Trainings
Capstans, at height solutions, OSHA 10, Lifting and Rigging… the list goes on. Our multipurpose training facility is big enough for your whole crew. We might even bring fajitas for lunch.
37 – New Manufacturers Added
2W, Leica, Rayovac, Pelican, Hougen Manufacturing, Generac, Westfall Professional… 128 in total. How many more will we have in 2015?
42 – Countries We Shipped Gear To
Zambia, Dubia, Germany, Ireland, Brazil, Wales… obviously Canada, China, Mexico. We even won the Region 7 Exporter of the Year award from the federal Small Business Administration.
45 – Combined Man Hours on Broken Down Party Bus on the Way to Cardinals Game
I mean, the bus was moving. But there was no A/C. And it was July. In the Midwest. It was pretty miserable. Luckily we only drove 30 minutes past the bus rental facility, where we unloaded and still made it in time for first pitch.
65% – Employees Using Standing Desks
Last year it was 29%. It's a revolution!
100% - Warehouse Shelving Space Increase
We like to keep things in stock, so you get your gear when you need it. For that to happen, we needed more space. You're welcome.
200 ft2 – NATE Tradeshow Booth Size Increase
Our booth got a little crowded last year, so this year we're doing it big. We'll have even more gear, giveaways, and products.
$315 – Payouts for Cheating on Diet Bet (In $5 Increments)
Five bones to every person participating, every time you cheat. Saturday is cheat day. Eat right, get rich. Eat cookies, get poor.
355 – Place in Inc 5000 List of Fastest Growing Companies
Inc. recognized us as the 355th fastest growing company in the country. Thanks to our great customers who have given us that opportunity!
434 – M&M's that Sasha Wouldn't Eat from Trail Mix Bags
He only allowed himself one M&M candy per handful of trail mix. All the others went into a jar. (Yeah he's one of the personal trainers.)
475 – Minutes of Planks Done in December During Plank Challenge
Workin' on our six packs, 60 seconds at a time.
765 – Number of Times Kevin said "Literally"
He says it way too frequently… like, literally a few times in every conversation.
985 – Miles Driven by Accounting Manager and/or Her Son(s) for Special Deliveries
Crossing state lines, if UPS can't get it there fast enough, we'll find a way to get our products to our customers. Even if it means a mother/son weekend trip in the minivan.
1,040 – Live Chats Completed Online
Can't talk on the phone, or just prefer getting things done on the keyboard? Live chat is for you.
1,621 – Different Products in our Showroom
That's not individual items, it's different products. 1622 if you count the complimentary coffee.
24,602 – Facebook Likes
We're going to motor past 25,000 shortly. Check us out on Instagram as well. Share you photos with us and we'll re-gram 'em.
85,000 – Pounds of Ice Melt Sold
By the bag or by the pallet, pick it up or we'll deliver. Polar vortex, schmolar vortex.
90,477 – Airline Miles Traveled
From meetings with customers, to NATE Unite 2014, to Washington DC for the TIRAP initiative.
126,898 – YouTube Minutes Watched
Instructional, product overviews, testimonials, behind the scenes… there's a little bit of everything in our 160+ video collection. And it'll keep getting bigger.
$360,000 – Dollars Donated to Charity
We love giving back to the community around us. We adopted local children for the holidays and bought them everything on their wish list, sponsored local events, and volunteered our time more than ever this year.
700,000 – Pounds of Gear Shipped from our World Headquarters
By ground, air and sea… we get your gear where you need it, when you need it.
1,709,520 – Page Views on our Website
Almost a quarter million more than last year. Let's see if we can hit 2 mil in 2015!
Check out last year's numbers to see how we've grown. Have a happy new year, and we'll see you all in January!