//
//
//

SAME DAY SHIPPING*
Model#: C-KIT-TT-TTCSCS-100L-SSC
Stock#: C-KIT-TT-TTCSCS-100L-SSC
Tuf-Tug Fixed Ladder Cable Safe Climb System
Multiple Options Available
$485.86 to $2,024.65
THIS ITEM SHIPS FOR FREE!
Please select an option below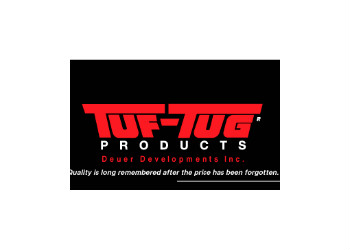 ---
Tuf-Tug Fixed Ladder Cable Safe Climb System
GME Supply now offers in-stock, ready to ship the same day, cable climb systems that are approved for installation by major tower site owners. The Tuf-Tug Fixed Ladder Cable Safe Climb System includes all the components required for fixed ladder configurations of common tower heights. This fixed ladder kit features stainless steel cable that is factory swaged and cut to the chosen length. Tuf-Tug's Safe Climb System includes a heavy-duty upright mount bracket for solid rung ladders, ladder mount cable guides, head assembly with an impact attenuator, base anchor bracket assembly with tension adjustment, eye bolt, and cable clips. For further information, give one of our Gear Experts a call.
Available Lengths and Components:
25' (KIT-TTCSCS-25L-SSC)

(1) Heavy Duty Upright Mount Bracket (115-114)
(1) Cable & Head Assembly, Cable cut to length and factory swaged to Head Assembly with Impact Attenuator
(1) Base Anchor Bracket Assembly with Tension Adjustment Eye Bolt and Cable Clips and required installation hardware (115-202/115-110)

50' (KIT-TTCSCS-50L-SSC)

(1) Heavy Duty Upright Mount Bracket (115-114)
(1) Cable & Head Assembly, Cable cut to length and factory swaged to Head Assembly with Impact Attenuator
(1) Ladder Mount Cable Guides and required installation hardware (115-203)
(1) Base Anchor Bracket Assembly with Tension Adjustment Eye Bolt and Cable Clips and required installation hardware (115-202/115-110)

75' (KIT-TTCSCS-75L-SSC)

(1) Heavy Duty Upright Mount Bracket (115-114)
(1) Cable & Head Assembly, Cable cut to length and factory swaged to Head Assembly with Impact Attenuator
(2) Ladder Mount Cable Guides and required installation hardware (115-203)
(1) Base Anchor Bracket Assembly with Tension Adjustment Eye Bolt and Cable Clips and required installation hardware (115-202/115-110)

100' (KIT-TTCSCS-100L-SSC)

(1) Heavy Duty Upright Mount Bracket (115-114)
(1) Cable & Head Assembly, Cable cut to length and factory swaged to Head Assembly with Impact Attenuator
(3) Ladder Mount Cable Guides and required installation hardware (115-203)
(1) Base Anchor Bracket Assembly with Tension Adjustment Eye Bolt and Cable Clips and required installation hardware (115-202/115-110)

150' (KIT-TTCSCS-150L-SSC)

(1) Heavy Duty Upright Mount Bracket (115-114)
(1) Cable & Head Assembly, Cable cut to length and factory swaged to Head Assembly with Impact Attenuator
(5) Ladder Mount Cable Guides and required installation hardware (115-203)
(1) Base Anchor Bracket Assembly with Tension Adjustment Eye Bolt and Cable Clips and required installation hardware (115-202/115-110)

200' (KIT-TTCSCS-200L-SSC)

(1) Heavy Duty Upright Mount Bracket (115-114)
(1) Cable & Head Assembly, Cable cut to length and factory swaged to Head Assembly with Impact Attenuator
(7) Ladder Mount Cable Guides and required installation hardware (115-203)
(1) Base Anchor Bracket Assembly with Tension Adjustment Eye Bolt and Cable Clips and required installation hardware (115-202/115-110)

250' (KIT-TTCSCS-250L-SSC)

(1) Heavy Duty Upright Mount Bracket (115-114)
(1) Cable & Head Assembly, Cable cut to length and factory swaged to Head Assembly with Impact Attenuator
(9) Ladder Mount Cable Guides and required installation hardware (115-203)
(1) Base Anchor Bracket Assembly with Tension Adjustment Eye Bolt and Cable Clips and required installation hardware (115-202/115-110)

300' (KIT-TTCSCS-300L-SSC)

(1) Heavy Duty Upright Mount Bracket (115-114)
(1) Cable & Head Assembly, Cable cut to length and factory swaged to Head Assembly with Impact Attenuator
(11) Ladder Mount Cable Guides and required installation hardware (115-203)
(1) Base Anchor Bracket Assembly with Tension Adjustment Eye Bolt and Cable Clips and required installation hardware (115-202/115-110)

400' (KIT-TTCSCS-400L-SSC)

(1) Heavy Duty Upright Mount Bracket (115-114)
(1) Cable & Head Assembly, Cable cut to length and factory swaged to Head Assembly with Impact Attenuator
(15) Ladder Mount Cable Guides and required installation hardware (115-203)
(1) Base Anchor Bracket Assembly with Tension Adjustment Eye Bolt and Cable Clips and required installation hardware (115-202/115-110)

500' (KIT-TTCSCS-500L-SSC)

(1) Heavy Duty Upright Mount Bracket (115-114)
(1) Cable & Head Assembly, Cable cut to length and factory swaged to Head Assembly with Impact Attenuator
(18) Ladder Mount Cable Guides and required installation hardware (115-203)
(1)Base Anchor Bracket Assembly with Tension Adjustment Eye Bolt and Cable Clips and required installation hardware (115-202/115-110)
C-KIT-TT-TTCSCS-100L-SSC
KIT-TTCSCS-100L-SSC
KIT-TTCSCS-150L-SSC
KIT-TTCSCS-200L-SSC
KIT-TTCSCS-250L-SSC
KIT-TTCSCS-25L-SSC
KIT-TTCSCS-300L-SSC
KIT-TTCSCS-350L-SSC
KIT-TTCSCS-400L-SSC
KIT-TTCSCS-500L-SSC
KIT-TTCSCS-50L-SSC
KIT-TTCSCS-75L-SSC