//
//
//

SAME DAY SHIPPING*
Model#: RP2Q15-R
Stock#: RP-RP2Q15-R
UPC/GTIN/EIN: 867369000115
Ridgepro Plus Roof Attachment Tool
$498.99
This item does not qualify for free shipping

Get it by Dec 06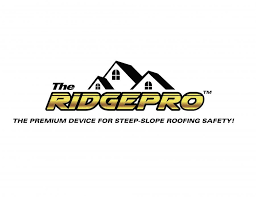 ---
Ridgepro Plus Roof Attachment Tool
Features:
Connect to the peak before stepping onto a steep-slope roof
Safely transition on and off ladders from 6/12 to 12/12 pitches
Faster access to the peak than standard rope-and-harness techniques
Lightweight alternative to bulky scaffolding or roof planks
Versatility across many professional roofing applications
Easy to assemble and install
Includes
Ridgepro
8' to 16' Extension pole
The Ridgepro Plus Roof Attachment Tool is the ultimate tool to get you safely from the ladder to the peak and back. The main body is constructed of high-grade aluminum capable of withstanding thousands of pounds of pulling force, an adjustable pitch-selection grid with an incremental range of 6/12 to 12/12 with pitches etched into the main body, two padded cross members to protect an existing surface material from damage and balance the user when transitioning on and off the ladder. Four cross member holes to receive 5/16" lag bolts for optional anchoring, a stainless steel shackle to receive the rope and harness clip, a set of pre-installed wheels to roll The RIDGEPRO to and from the peak. Components are welded together at the seams and finished with a brilliant red and yellow powder coat finish. The Ridgepro adjustable roof anchor and an 8-foot Extension Pole that extends and locks at increments up to 16 feet long, which covers a vast majority of current, residential roofing structures. The Extension Pole has a quick-release button made of fiberglass-reinforced nylon with a heavy-duty locking pin, and a hexagonal inner pole made of anodized aluminum.
RP-RP2Q15-R
Capacity:
5000 lbs
Configurable Size:
Pitch: 6/12 to 12/12
Height (Generic):
8' to 16'
Manufacturer:
Ridgepro
Material:
Aluminum
Anodized Aluminum
Weight:
19.00