//
//
//

SAME DAY SHIPPING*
Model#: C-ED-19193
Stock#: C-ED-19193
Ergodyne Squids 3179 Aerial Bucket Hook
Multiple Options Available
$12.95 to $25.95
Please select an option below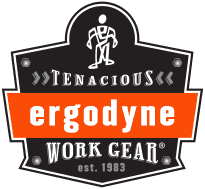 ---
Attach To Buckets To Hang Tool Bags, Boards & More - Easily secures to bucket lips for convenient gear access and prevention of dropped objects when working at heights
Maximizes Working Space - Keeps gear up and out of the way in compact aerial buckets
Two-sided Hook - Utilize both sides of the hook to hang gear both inside and outside of bucket
Durable - High-strength all-weather nylon 66 polymer supports weight up to 35lbs // 15.9 kg
Compatible With Most Bucket Storage Solutions - Hook fits standard grommets, including those on the Arsenal 5710 Bucket Truck Tool Board and 5844 Bucket Truck Tool Bag
Fits 2 in (5 cm) Bucket Lips
Ergodyne Squids 3179 Aerial Bucket Hook
The Ergodyne Squids 3179 Aerial Bucket Hook easily fits over the lip of utility buckets to allow workers to securely hang tool bags, buckets, boards/aprons, and more for convenient access and prevention of dropped objects. By hanging tools and bags from both sides of this two-sided s-hook, workers can maximize space in compact buckets by keeping gear off the floor and out of the way. Made with high-strength all-weather nylon 66 polymer, this durable bucket hook supports weight up to 35 lbs (15.9 kg).
This aerial bucket hook easily attaches and detaches to standard 2 in (5 cm) bucket lips. Compatible with standard grommets on most bucket storage solutions, including the Arsenal 5710 Bucket Truck Tool Board and 5844 Bucket Truck Tool Bag.
In addition to convenient storage, bucket hooks are a part of an overall fall protection plan to reduce the risk of falling objects and increase workplace safety. Ideal for work in bucket trucks, including telecom, utilities, heavy infrastructure, cellular and fiber.
Features:
Attach To Buckets To Hang Tool Bags, Boards & More - Easily secures to bucket lips for convenient gear access and prevention of dropped objects when working at heights
Maximizes Working Space - Keeps gear up and out of the way in compact aerial buckets
Two-sided Hook - Utilize both sides of the hook to hang gear both inside and outside of bucket
Durable - High-strength all-weather nylon 66 polymer supports weight up to 35lbs // 15.9 kg
Compatible With Most Bucket Storage Solutions - Hook fits standard grommets, including those on the Arsenal 5710 Bucket Truck Tool Board and 5844 Bucket Truck Tool Bag
Fits 2 in (5 cm) Bucket Lips
Available Options
1 Pack (19193)
2 Pack (19194)
C-ED-19193
Capacity:
15.9 kg
35 lbs
Color:
Black
Features:
Non-Conductive
Manufacturer:
Ergodyne
Material:
Nylon
ED-19193
ED-19194