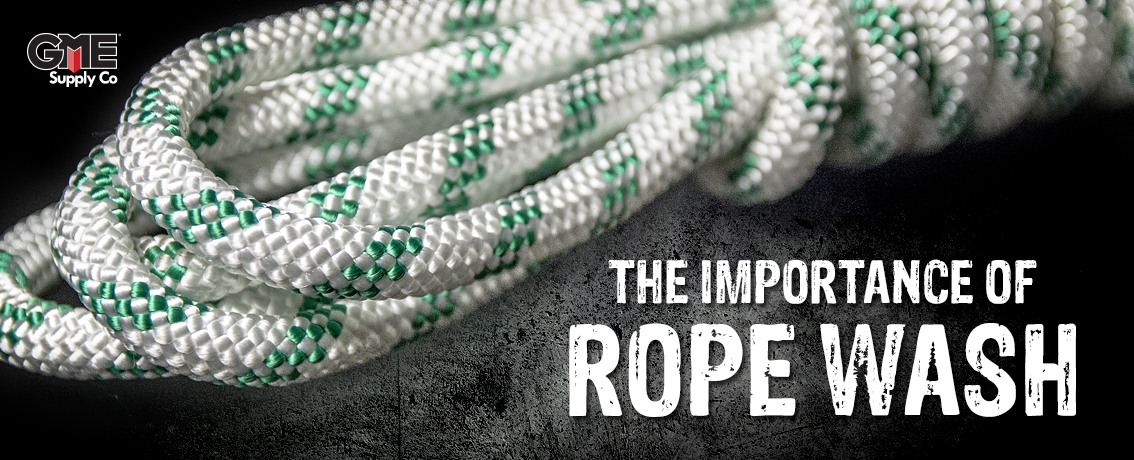 We talk a lot about rope, but that's because rope is so important. We've said it before, and we will say it again: in at-height work, many times, your rope is literally your lifeline. This week our
Gear Experts®
 are going to outline rope wash and offer a refresh on proper rope inspection.
Rope Wash
---
What is
rope wash
? Well, the name is self-explanatory, it is a washing solution for your rope. Rope wash is important because it helps keep your rope clean by removing dirt and grime. A clean rope typically lasts longer than an unclean rope so, not only does it help keep you safe, but it also helps save you money. All of the rope wash we offer (
single packs
and a
case of 20
) are chemical free. Chemical free rope wash will not break down any of the fibers in your rope, this ensures that no damage is caused by the washing process. For optimal care results rope should be washed after approximately 30-40 uses. Each packet of rope wash has enough soap for one wash and can be used to wash your rope by hand, washing machine, or in a tub of water.
Inspection
---
Each time you use your rope, you should perform a visual inspection to ensure it's safe to use. Check for cuts, nicks, burns, excess fraying, flat or uneven spots, glossing, discoloration from sun exposure or chemicals, or inconsistencies in the rope. Refer to the manufacturer's recommendations for complete inspection and usage instructions. When inspecting your rope, it is much easier to keep track of your inspections with a Rope Inspection Log. Some manufacturers provide logs with their rope, but if your rope doesn't come with one, or if you lost it,
click here
 to download one for free from our
knowledge base
. Got more questions about rope wash?
Click here
to contact one of our Gear Experts®!
**The content of this blog is not intended to replace proper, in-depth training. Manufacturer's instructions must also be followed and reviewed before any equipment is used.
→
Click here
to check out our selection of rope wash →
Click here
to check out our Rope Inspection 101 blog post →
Click here
to check out Rope Buying Guide →
Click here
to check out our full selection of Rope →
Click here
to check out our free Rope Inspection Log
How To Wash Your Rope
---
Get Social
---
Be sure to follow us on social media to keep up with everything GME Supply has going on.
Facebook | Instagram | YouTube | Twitter | LinkedIn

We're Also on Snapchat
---
Simply snap or screenshot this image ↓ to follow GME Supply!