The All New, Fully Redesigned GMESupply.com
It's here…
The new GMESupply.com is officially live. We redesigned the entire website from the homepage up to better serve you. It has tons of new features and content, and we have even more in the works. Below we go over some of our favorites.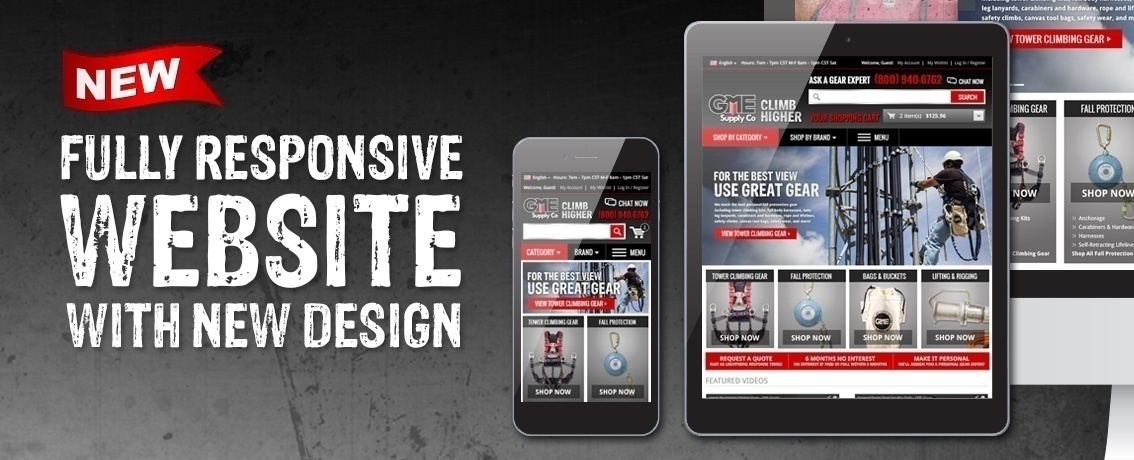 Fully Responsive
It's now fully responsive, which means it scales to fit any device perfectly. On the jobsite and realize that you need some extra hardware to complete your work? Boom. Order from your smart phone or tablet just as easily as you would from your computer at home.
Place a large order in a fraction of the time. Know you need a truck of gear for a new crew? Just search of the product name or SKU and add it to the cart. No more going page by page to find the right item. We know your time is valuable and the extra time you're on the computer searching for products is time you're not making money. Problem solved.
Shop with a Gear Expert
Now you can choose your personal gear expert to assist you in purchasing. Check out their photos, read their bio to see what makes them tick and what brings them to their job every day. Once you find one you like, shoot them an email and they'll get in touch with you to help you stay safe and productive on the job. Just another way we're helping you #ClimbHigher
Filter by Attribute
Drill down exactly what you're looking for within each category. Need a new hard hat? Vented or non-vented? White, red, orange, blue, hi-viz? Full brim or short brim? One checkbox narrows it down to help you find the perfect cap to protect your dome.
Resources
We have hundreds of blogs and videos to help educate you on the gear you use every day. Now, they're easier to find than ever. On the right navigation of every page we've linked any relevant resources to that page so you know exactly what you need, and how to use it.
Search Within Category
Narrow down your search even more. While our search function was top-notch before, now it's even more versatile. Within any category, you can use keywords to dial in your product hunt.
Quick View
Consider it window shopping for the internet. Don't want to commit to walking into the store? Just stay at the category level and quick view a product without leaving the page you're on. It's a great way to browse a lot of products quickly, while still getting some basic info about each one.
Compare Products
What's the difference between the WF-07430 and WF-07440 carabiners? Before you'd have to pull up both pages and swap back and forth between them. Now, just add them to the compare feature and all relevant attributes are organized in a simple to read table. You can compare up to four products at a time.
Featured Videos
We know you like to watch videos to learn about products and educate yourself on the work you do. Now we have our most informative and entertaining videos on each product category in a designed spot.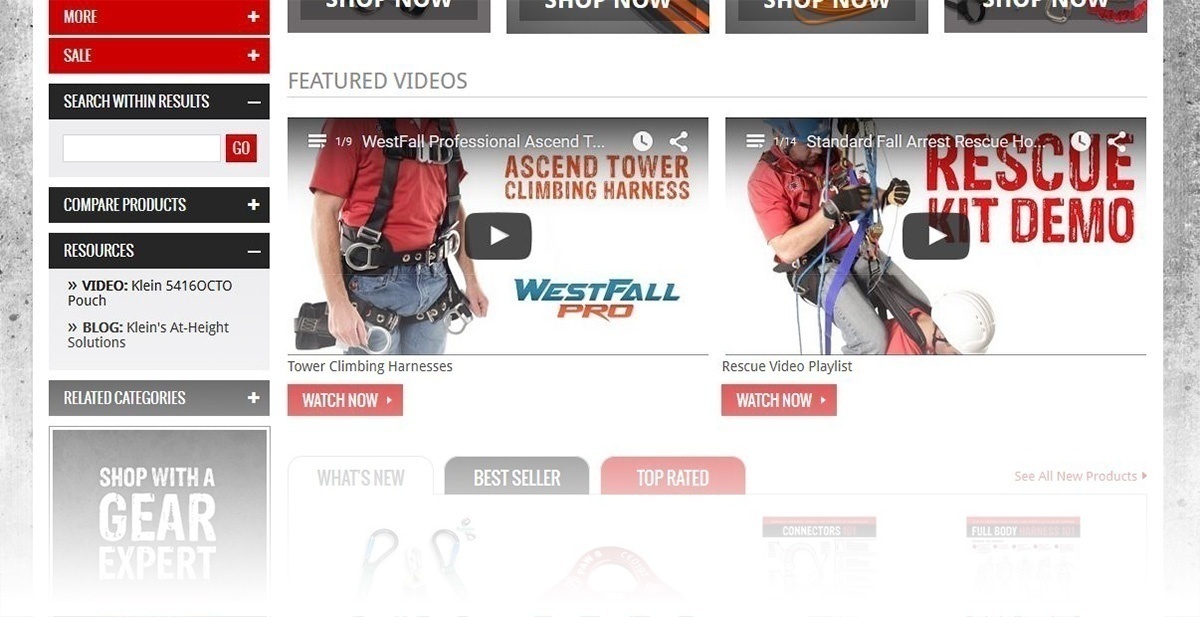 One Page Checkout
No more running the checkout gauntlet. Just input your shipping, billing, and payment info on one page then submit your order. It just takes a few taps on the keyboard and a single click. Easy-Peasy.
Like we said, this is only the beginning. We have more projects in the works to make this here website even better. When they're here, we'll be sure to let you know. We promise they'll make your GME experience even better. I know it's hard to believe but trust us.
What are you waiting for? Go check out the site for yourself. Might we recommend you start by choosing a Gear Expert?