1910 SUBPART D
From 2006 to 2012, there were an average of 261 fatal falls to a lower level annually in general industry, not including falls in the construction industry, resulting in over 48,379 lost-workday injuries reported. Slips, trips, and falls on the same level were reported in more than 125,000 injuries a year.
This new standard overhaul allows employers more flexibility in creating their fall protection solution for what will work best in their situation like guardrails and handrails, personal fall protection, designated areas, and safety net systems. It also incorporates technical information and guidelines from the construction industry that were previously not included in the general industry standards, such as fall protection systems, rope descent systems, and training on fall hazards and fall protection.
Below is a section by section breakdown of the standard. For a full understanding, reference the OSHA website.
STANDARDS BREAKDOWN
1910.21 - SCOPE & DEFINITIONS
OSHA is consistent with terminology used in other general industry, construction, and maritime standards to make the new requirements easier to understand.
1910.22 - GENERAL REQUIREMENTS
Employers must now regularly inspect all walkingworking surfaces for unsafe conditions and correct or repair any problems quickly. If the repair cannot be handled immediately the hazard must be guarded to prevent access.
1910.23 - LADDERS
Existing requirements on portable and fixed ladders have been combined. This section requires that when ascending or descending a ladder, employees must maintain 3 points of contact by facing the ladder, using at least one hand at all times, and not carrying any object or load that could cause them to lose balance and fall.
While the provision will allow them as a temporary solution, OSHA is ultimately phasing out cages and wells on fixed ladders. Any existing ladders with cages or wells will need to be modified with ladder safety systems or a personal fall arrest system to meet the new standard within the next 20 years.
1910.25 - STAIRWAYS
The term stairways now applies to all permanently installed stairs regardless of step count. Spiral, ship, and alternating tread-type stairs are only permitted where standard stairs would not be practical.
1910.26 - DOCKBOARDS
Dockboards, or bridge plates must have edging or curbing to prevent equipment from running off the edge. This protects employees that may be working below from dropped objects. Any transport vehicles must also be prevented from moving on dockboards.
1910.27 - SCAFFOLDS & ROPE
DESCENT SYSTEMS
Employers must now comply with the construction industry standards for scaffolding. There is also new language for rope descent systems, which were not previously regulated by OSHA.
1910.28 - FALL PROTECTION
A brand new section which allows employers to choose from several fall protection options in addition to guardrails. Safety net systems, personal fall protection systems (travel restraint systems, fall arrest systems, positioning systems, etc.) and designated areas. Fall protection must be provided at four feet for general industry.
1910.29 - FALL PROTECTION SYSTEMS
Fall protection systems should be permanently installed when possible so that they are available whenever potential exposure to fall hazards exist. Personal protective equipment, including fall protection, must be provided by the employer at no cost to the employee.
1910.30 - TRAINING
Employees who use any type of fall protection system or equipment must have proper training and retraining that is developed and taught by a qualified person. This is a completely new requirement under Subpart D. Employees must be able to recognize fall hazards, know what to do about the hazards, and understand how to properly use all equipment to do their job.
SUBPART 1 - 1910.140 - PERSONAL
PROTECTIVE EQUIPMENT
This new section to Subpart 1, which covers PPE, covers criteria for fall protection equipment. Specifically, it outlines selection, use, testing, inspection, maintenance, and training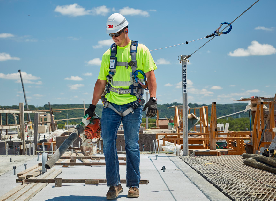 COMPLIANCE DATES
The majority of the new requirements went into effect January 17, 2017. But OSHA extended some dates to give employers time to properly train, evaluate their programs, and purchase any new equipment required for compliance.
1910 SUBPART D TIME LINE
Compliance Date: May 17, 2017
1910.30(a) and (b): Deadline by which employers must train employees on fall protection equipment hazards.
Compliance Date: November 20, 2017
1910.27(b)(1): Certification of anchorages.
Compliance Date: November 19, 2018
1910.28(b)(9)(i)(A): Deadline by which employers must equip existing fixed ladders with a cage, well, ladder safety system, or personal fall arrest system.
Compliance Date: November 19, 2018
1910.28(b)(9)(i)(B): Deadline by which employers must begin equipping new fixed ladders with a ladder safety system or personal fall arrest system.
Compliance Date: November 18, 2036
1910.28(b)(9)(i)(D): Deadline by which all fixed ladders must be equipped with a ladder safety system or personal fall arrest