//
//
//

SAME DAY SHIPPING*
Model#: C-JX-SERIES
Stock#: C-JX-SERIES
JX Series Wire Marker, up to 1 inch wire
Multiple Options Available
$130.99 to $403.99
THIS ITEM SHIPS FOR FREE!
Please select an option below

---
JX Series Wire Marker, up to 1"
The Model JX is an improvement over the Model SD. It is easier to install, having only four bolts to clamp it to the wire, and has a larger contact area with the wire for a more secure attachment.
This marker also installs easily on any wire 1/8" - 1" (Custom wire sizes are available) through the use of two UV resistant neoprene strip bushings installed on the wire to match the diameter of the openings (boss) in the marker. The marker is then securely bolted around the wire, clamping down on the bushings.
This Marker is appropriate for neutral wires, guy wires, and conductor wires up to 69KV only.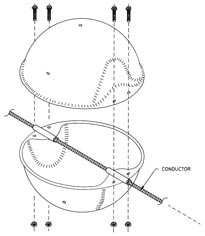 C-JX-SERIES
| | |
| --- | --- |
| Country of Manufacture: | United States |
| Manufacturer: | Tana |
JX-0900
JX-1200
JX-2000
JX-2000W
JX-2400
JX-2400W
JX-2400Y