JX Series 24 In. Wire Marker, wire up to 1 Inch
FREE SHIPPING!
Status:
Typically ships in 2 - 5 business days.
FREE SHIPPING!
JX Series Wire Marker Balls

The JX Series Wire Marker features several improvements over the SD Series. It is easier to install, having only four bolts to clamp it to the wire, and has a larger contact area with the wire for a more secure attachment. The minimal difference in price between this Marker and the SD Series makes this Marker of our most popular choices.

The JX Marker installs easily on any wire .2" - .875" through the use of two UV resistant neoprene strip bushings installed on the wire to match the diameter of the openings (boss) in the Marker. The Marker is then securely bolted around the wire, clamping down the bushings.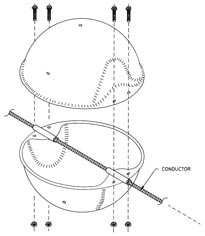 More Information

| | |
| --- | --- |
| SKU | JX-2400 |
| Manufacturer | Tana |
| Country of Manufacture | United States |
| Manufacturer Model | JX-2400 |