//
//
//

SAME DAY SHIPPING*
Home
>
Brands
>
French Creek
>
French Creek Adjustable 1 Inch Web Shock Absorbing Six Foot Lanyard with Snap Hooks and 2.5 Inch Rebar
Model#: 454AB
Stock#: FC-454AB
French Creek Adjustable 1 Inch Web Shock Absorbing Six Foot Lanyard with Snap Hooks and 2.5 Inch Rebar
$71.99

Get it by Dec 11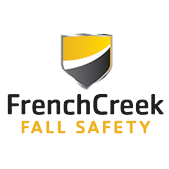 ---
French Creek Adjustable 1 Inch Web Shock Absorbing Six Foot Lanyard with Snap Hooks and 2.5 Inch Rebar
Features:
High-strength webbing
Locking snap hook
2.5" Rebar hook
Inline pack style shock absorber
The French Creek Six Foot 1 Inch Web Lanyard Non-Shock Absorbing with Snap Hooks provides a simple and easy connection for fall protection. Made of durable high-strength nylon webbing with snap hooks on the attachment end with rebar hook on the anchorage end. With a pack-style shock absorber that will limit fall forces in the event of a fall.
FC-454AB
Attachment:
Rebar Hook
Snap Hook
Color:
Yellow
Width:
1"
Country of Manufacture:
United States
Features:
Pack-style shock absorber
Gate:
2-1/2"
Length:
6'
Manufacturer:
French Creek
Material:
Webbing
Weight:
3.00