//
//
//

SAME DAY SHIPPING*
GME Supply By the Numbers - 2022 Edition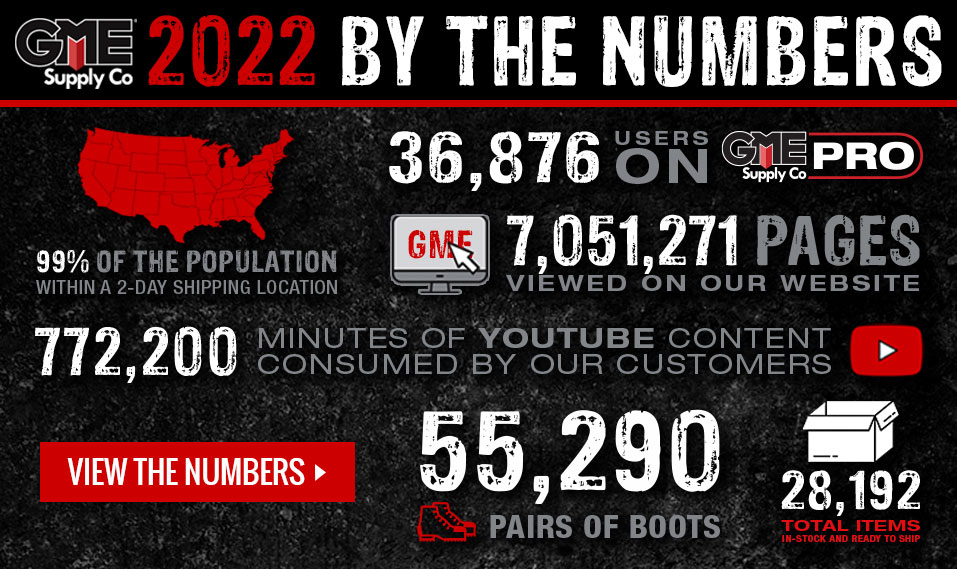 It's hard to believe, but 2022 is already over. We don't know where the time went but, we do know that the end of another year means another annual By the Numbers wrap-up.
Our mission has always been to keep workers safe and productive on the job. This year, our Gear Experts® doubled down on our commitment to being North America's Premier Outfitter of safety equipment and gear. 2022 brought with it material shortages, long shipping delays, and a slew of other challenges caused by the global pandemic. But our tenacious team of Gear Experts® never lost sight of what mattered most - getting you what you needed when and where you needed it.
Last year had its hurdles, but we choose to focus more on the good that 2022 brought like the return of trade shows, in-person meetings, and live trainings. It was wonderful seeing old friends as well as making new ones at various events around North America. And we expanded our footprint and our family of companies again!
We never forget to try to squeeze a little fun into our days, either. So, without further ado, let's review 2022 - By the Numbers.
2 - Shipping containers converted into state-of-the-art GWO training simulators
---
Welcome to Texas! The recent growth in the wind industry has blown us away. With 443,000 jobs created and more to come - the need for proper training and equipment expertise is critical. Keeping workers safe and productive on the job is in our blood and we know that actions speak louder than words. So, we grabbed 2 shipping containers and developed two state-of-the art Global Wind Organization (GWO) training simulators. Covering both basic (BST) and advanced rescue training (ART) we've got the resources you need to get the job done.
We aren't stopping there, though. We've got a range of basic technical training simulation equipment well on the way and with this upgrade, we'll be one of the only training facilities in North America equipped to handle the BTT module.
Days to pay via the PRO platform and receive an early pay discount
---
Who doesn't like saving money? Our PRO platform has a wide range of benefits - not only is it like having your Gear Expert at the tip of your fingers 24/7, but you can also save money just by paying through it. Head on over to colsafety.com/prodemo to learn more about how PRO can help you take your business to the next level (and save some dough).
23 - Webinars hosted
---
You get a webinar, you get a webinar, you get a webinar. In 2022 we had a webinar nearly every other week. Our Gear Experts® were hard at work teaming up with the brands you know and trust to bring you the valuable information you need to get the job done.
We pulled out all the stops and had guests like Petzl, 3M, Viavi, Milwaukee, Anritsu, and more join us help keep you up to date on the latest news, developments, and standards.
From entry level training for people new to the industry, to in-depth conversations with industry leaders developed specifically for seasoned professionals, we brought the knowledge all year long.
What's better than learning from experts? They were all FREE. That's right, FREE. Stay up on our schedule and don't miss our next webinar by signing up for notifications at colsafety.com/live.
59.33 - The size of an average Gear Expert head in centimeters
---
Packing all the knowledge of a Gear Expert into your brain may or may not make your head bigger. We aren't quite sure. But what we are sure of is that the average head size of our Gear Experts is 59.33 centimeters or 23.36 inches. In-between working with customers, shipping packages, improving our online platforms, providing stellar training, and hosting webinars, we found time to have a little fun.
79 - Countries shipped to
---
We might be North America's Premier Outfitter but that doesn't mean our desire to keep workers safe stops in North America. Safety doesn't know geography, so we picked, packed, and shipped gear all across the world - to 79 different countries to be exact.
99 - Percentage of the population within a 2-day shipping location
---
Getting the gear you need - when and where you need it. In a time of supply chain constraints and long lead times knowing you can get the equipment you need when and where you need it can make all the difference. From our dock to yours in 2 days or less our strategically placed warehouses and robust inventory management system allow us to blanket 99% of the US population (that's around 328,581,000 people) with 2-day shipping coverage.
100 - Percentage increase in Gear Experts
---
Keeping workers safe and productive on the job is no small task. From tracking down the gear you need while in the midst of global shortages to getting that gear to where you need it when logistical challenges arise, our Gear Experts® met the challenge.
Providing unmatched expertise and customer service is always top of mind for our team and to continue meeting your needs we knew we needed to grow our Gear Expert family. We scoured the nation for the most tenacious doers we could find resulting in a 100% employee growth rate.
192 - Under par in golf tournaments
---
For the past 2 years, we had to resort to playing golf with the "office" golf set. With the pandemic in full swing meeting up to swing iron to support industry events and charities was difficult. This year, we were able to make up for past missed events and our Gear Experts® got to put all of that practice to good use.
1040 (Sutton Drive) - The address of our brand new Canadian location
---
Hey Burlington, Canada. How you doin? That's right - we're international (again). In 2022 we welcomed Team-1 Academy into the GME Family. With the addition of Team-1, we're able to continue expanding our footprint in North America. Team-1 Academy services Ontario with Gear Expertise, a full line of safety equipment, and top-notch professional training.
2,500 - Pounds of Coca Puffs packaged at the Food Pantry
---
No matter how busy we are or what is going on, we always find time to give back to our community. This year, our Gear Experts® had the honor and the privilege of teaming up with our local Food Pantry and packing 2,000 pounds of Coca Puffs.
2,599 - Hours of learning at the Tower Summit
---
We brought together the heavy hitters of the telecom industry and gathered them all in one room. Through the partnership of GME, Safety LMS, and Petzl - we spent three and a half days bringing to light the advancements and future of telecom. From carriers, turf vendors, and contractors, to manufacturers, and distributors, this was an event for the books. Having all of these influential people in a single room to discuss the progress of the industry as a single team was something that we will not easily forget.
6,458 - inches of Jimmy John's Gourmet Sandwiches consumed
---
Freaky fast. freaky good. When we're not busy getting you the gear and training you need, there's a good chance that we might be eating a delicious gourmet sandwich from the Jimmy John's down the street. If you've ever been to our corporate headquarters in Columbia, MO then you know that we really like Jimmy John's. While we may have lost track of how many sandwiches we ate - we do know that was right around 6,458 inches worth of sandwiches. Only a few more and we might also be Sandwich Experts.
24,302 - New training certificates issued
---
Equipment is only half of the equation when it comes to keeping workers safe and productive on the job. The other half is all about the training. We ramped up our training capabilities this year (see # 2), began offering international training options (see # 1040) and launched an all-new online training management and certification system through Safety LMS. We educated, trained, and certified more students than ever - 24,302 to be exact.
28,192 - Items in stock and ready to ship
---
Quick Ship is the name. Fast and efficient shipping is the game. Spread out across North America - we've got the gear you need when and where you need it. We know that having the right equipment at the right time is critical for efficiency and your bottom line. With our Quick Ship program backed by our commitment to having the inventory you need - we're ready to keep you working and increasing your productivity all day every day.
35,061 - Interactions on Social Media
---
Facebook, Instagram, LinkedIn, YouTube, TikTok. No matter where you spend your time - we're available to chat. From awesome jobsite "office" photos and trips and tricks about equipment, to answering your questions our social media accounts were on fire this year. If you aren't already following us - you're missing out. Smash that like button, follow, subscribe, and turn on those notifications for updates from us!
36,876 - Users of our PRO platform
---
Seamlessly manage your equipment purchasing process from wherever you want whenever you want and on whatever device you want. Welcome to GME PRO. Through world-class technology, our Gear Experts have created a system that empowers you to seamlessly integrate your management, accounting, and procurement needs into a single easy-to-use system. Running 24/7/365, our PRO platform was pushing full steam ahead all year long with a record number of users.
55,290 - Pairs of boots
---
These boots are made for working. 2022 was a year of reflection and a year of growth. You spoke and we listened. We brought in a (literal) boatload of boots to fuel America's workers and keep your feet safe and comfortable. With some of the biggest brand names in boots like Timberland Pro, Keen, Cofra, and Wolverine, we've got the perfect fit for everyone.
217,780 - Calls logged in our system
---
Our Gear Experts® are always one call away. Whether you're looking for resources, equipment, or expert solutions to complex problems, our team is ready and eager to help you get the job done. With a total of 217,780 calls logged in our VOIP system, our phones were ringing off the hook all year long.
772,200 - Minutes of YouTube content consumed
---
Revolutionary new products, standards updates, how-tos, and product demonstrations, the reels on our YouTube camera were smokin this year! You spent 772,200 minutes (that's over 12,000 hours) watching our videos. We've got big plans for 2023 so be sure to subscribe and turn on notifications so you can stay up on the latest content from our Gear Experts.
1,249,406.4 - Football fields traveled for events (70,989 mi)
---
Tradeshows, summits, golf tournaments, customer visits - you name it, we were traveling to it this year. It was great to see some old friends and make new ones. Meeting virtually is a wonderful tool for our toolbox, and we still use it when needed, but there's something about in-person meetings that virtual ones just can't quite replace. Our Gear Experts® packed their bags and traveled all over North America this year. With 70,000+ miles traveled (that's over 1,249,406.4 football fields by the way) we definitely made up for 2 years of lockdown.
We have no plans in slowing down for 2023, either. From NATE, STAC, and NABCEP to Offshore, Cleanpower, and SCTE our Gear Experts are booking flights, hotels, and rental cars to prepare for another whirlwind year of tradeshows. Stay up with all of our events by subscribing to our newsletter. [link] We look forward to meeting you face-to-face in 2023!
7,051,271 - Website pages viewed
---
Available anywhere any time and on any device. Thousands of lines of code, a rockstar team of developers, and all backed by Gear Experts®. Our servers were running overtime this year. With over 7 million website pages visited, we were serving our customers no matter where they were, what time it was, or what device they were using. Gear Experts® still need sleep but thankfully for us, computers don't. Our websites were humming along 24/7/365 to get you the gear, expertise, and resources you need.
9,394,331 - Items shipped
---
1 word: wow. Now introducing the best warehouse team on the face of the planet (yeah, we might be a little biased, but we also think it is true). Our warehouses were humming with productivity as items were picked, boxes were assembled and packed, shipping labels were printed, and trucks were loaded. Is there much more to say? We were able to send more gear out the door than ever before all thanks to the faith our customers have in us.
We promise to keep pushing forward, to keep focusing on keeping each of you safe and productive on the job, and to continuing to strive to be a partner you can rely on for everything safety related for years to come.
Goodbye 2022 and hello 2023 - let's crush it (and have a little fun, too)!
Until next time - We are YOUR Gear Experts.