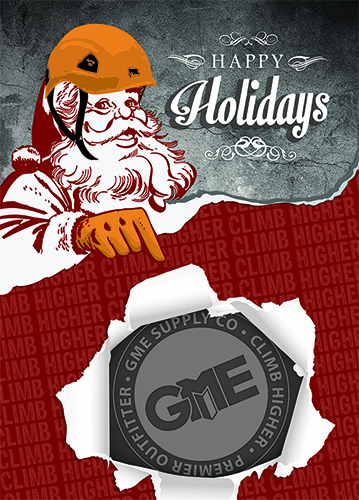 Twas the night before training, and all through the site,
Not a climber was unsafe, not even at-height.
The gear bags were hung on the work truck with care,
In hopes that certification soon would be there.
The climbers were nestled all snug in their beds,
While visions of capstans danced in their heads.
Instructor in harness, and I in hard hat,
Had just settled down by the tower out back.
When up on tower there arose such a clatter,
We sprang with our rope grabs to see what was the matter.
Away on the lifeline I flew like a flash,
Tied off to my D-ring, and climbed with my B.A.S.H.
Obstruction lighting shined down on to the snow,
And lit up the various objects below.
When, what to my bright Pixa2 should appear,
But a miniature bucket, and some more tiny gear.
With a little old climber, so lively and spry,
I knew in a moment he came from GME Supply.
More rapid than ever, he emptied his gear,
He whistled, and shouted, loud for all to hear.
Now Petzl! Now Klein! Now Jet and Rock Exotica!
On, Carhartt! On, Cadweld! On Falltech and DBI Sala!
To the top of the tower, to the top of them all!
Now scale away! Climb away! And never ever fall!
And then, in a twinkling, he pulled rope from a spool,
It was Sterling, and he anchored it according to rule.
As I drew in my head, and was turning around,
Down the tower he went, with an I'D to the ground.
He was dressed in high-vis, from his hat to his shirt,
He clearly wasn't a man that'd ever get hurt.
An EXO Fit harness, he had flung on his back,
Plus a FallTech lanyard with shock-absorbing pack.
He spoke not a word, and went straight to his work,
He filled each gear bag, and then turned with a smirk.
Then placing his eye protection on top of his nose,
He gave us a nod, back up the tower he rose.
He flew up the tower, with the skill of a pro,
With all the gear he brought, we were sad to see him go.
I heard him exclaim, as he reached the spire,
Happy holidays to all, and to all, Climb Higher.