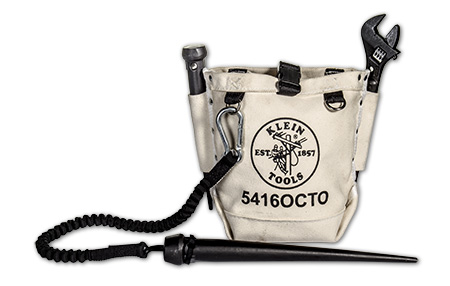 Klein's new Work At-Height gear is now available. Their tried and true steel erection tools, bags, and buckets have upgraded functionality. Pair them with the new tool lanyard and you've got yourself a great drop-proof setup.
Falling objects accounted for 10% of worker fatalities in 2013, and is the third leading cause of disabling injuries. Luckily, manufacturers are taking steps to make sure dropped objects are no more.
We'll start with the tether. It has a maximum load capacity of 10 lbs and stretches from 32 inches to 60 inches. Check out the video below to see how to install, and secure it onto tools.
Next, we'll look at the new 5416OCTO Canvas Pouch with Connection Points. It's got the standard bull pin loops to store your tethered tool, plus two d-rings on the front, and four on the inside for plenty of space to connect tethers.
Finally, the bull pins and wrenches with tether holes. You know these… the bull pins are machined from high quality alloy steel for extra durability and are available with either a black rust resistant finish or in stainless steel. Now, they feature a tether hole for anchoring to your harness or bag.
Head over to our tools section to see all tools from Klein, or the bags and buckets page to see even more pouches with anchorage.