The best ones are shiny, futuristic, and especially functional. They make every job easier and often more enjoyable to do. Pulling out a cool tech piece can make your work more fun, and potentially safer, too. Have a look at a few of our favorite gadgets.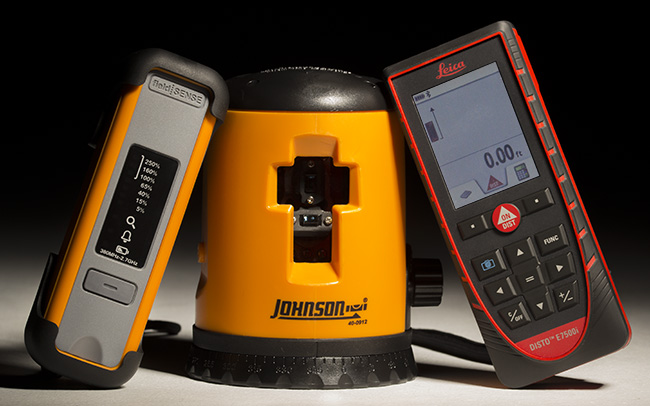 This compact, durable device doesn't necessarily make your job easier, but it definitely keeps you safe. RF monitors are becoming required equipment by more and more carriers. The FS8500 has two modes, measure, and monitor. In measure mode, the field strength is continuously measured. This is used to make sure that a site is safe to be in before work begins. Then once you're working, switch the unit over to monitor mode, where the fieldSENSE will alert you if any sudden changes in exposure occur.
A key feature in the fieldSENSE unit that sets it apart from others is that it shows the percentage of exposure level above 100 percent. Other units top out at 100 percent, but the amount of time you can safely work in 100 percent exposure is very different than the amount of time you can work in 250%. The fieldSENSE makes it clear what exposure level you're in, to keep you safe.
Here's a gadget that's packed full of features to help you work faster and smarter. This laser measurement tool can measure distance, area, volume, slope, height tracking, and more.
Pair it with the powerful iOS app and you can make detailed sketches and instantly mark measurements onto a photo of the jobsite. It connects via Bluetooth to your device and sends the information immediately. The full color screen is bright enough to see outside, and the camera feature can be used to zoom in on a point to measure. Check out the video overview to see it in action.
Johnson Self Leveling Cross Line Laser Level
This is an economically priced self-leveling laser level kit that makes getting straight and square lines simple. All you have to do is place the device on the included tripod and flip the knob. The internal pendulum is released and will steady itself into a perfect horizontal and vertical line.
It's great for hanging shelves, cabinets, photos or tile. Plus it's made by Johnson, a long-trusted name in levels, so you know it's good. See the video to learn more.