There are few, if any, items in your gear bag that are as versatile as a carabiner. Carabiners come in all shapes, sizes, and strengths and making sure that the carabiner you use is up to the task is an important part of your safety. In this blog post, our Gear Experts® are going to give you the low down on carabiner gates.
Gate Ratings
---
A carabiner gate is the portion of the carabiner that can open to allow the carabiner to attach to the item you want to attach it to. The gate will have a specific rating that states how many pounds of force can be applied on the gate before it is damaged. This rating is separate from the load rating of the carabiner and will be stamped directly on the gate. Typically, it will be in one of 3 formats: 3,600 lbs., 16kN, or 3.6m. If you do not see this stamp on your carabiner there's a good chance you're not in compliance and you should not continue to work with that gear.
Hiking Through the Woods
---
We've all see those carabiners that hold your keys or are used to connect your canteen to your hiking backpack. Imagine that you are on a hike and you have your canteen connected to your backpack with one of those carabiners. As you climb the motion of the backpack moving slowly wiggles the gate of the carabiner open and your canteen falls to the forest floor. You're focused on getting to your campsite and you bought an ultra-lightweight canteen, so you don't notice that it falls off – that is, until you go to get a nice refreshing drink of water. If only you had used a carabiner with a gate mechanism. Then your canteen wouldn't have been able to be opened by accident and you wouldn't have lost your favorite canteen.
Carabiner Gate Mechanisms
---
The purpose of carabiner gate mechanisms is to prevent the accidental opening of the carabiner while it is in use. Losing your canteen while hiking is bad but having your carabiner come detached from an anchorage point while you are 100 feet up on a tower is worse. Carabiner gates come in a few different varieties (screw-lock, twist-lock, and auto-lock). For tower climbing, the most common is the twist lock, but some other work may require another variety of gate function.
Screw-Lock
The screw-lock operates by unscrewing the sleeve down the gate to open. This gate will not auto-lock as the sleeve has to be manually tightened after the gate snaps shut.
Twist-Lock
The twist-lock is a double action gate that quickly opens with a simple twist and pull movement.
Auto-Lock
This is a three-stage design as it requires 3 different motions to open. First you pull the sleeve down, then twist, then pull back to open. Some auto-lock carabiners only twist in one direction, while others can twist left or right.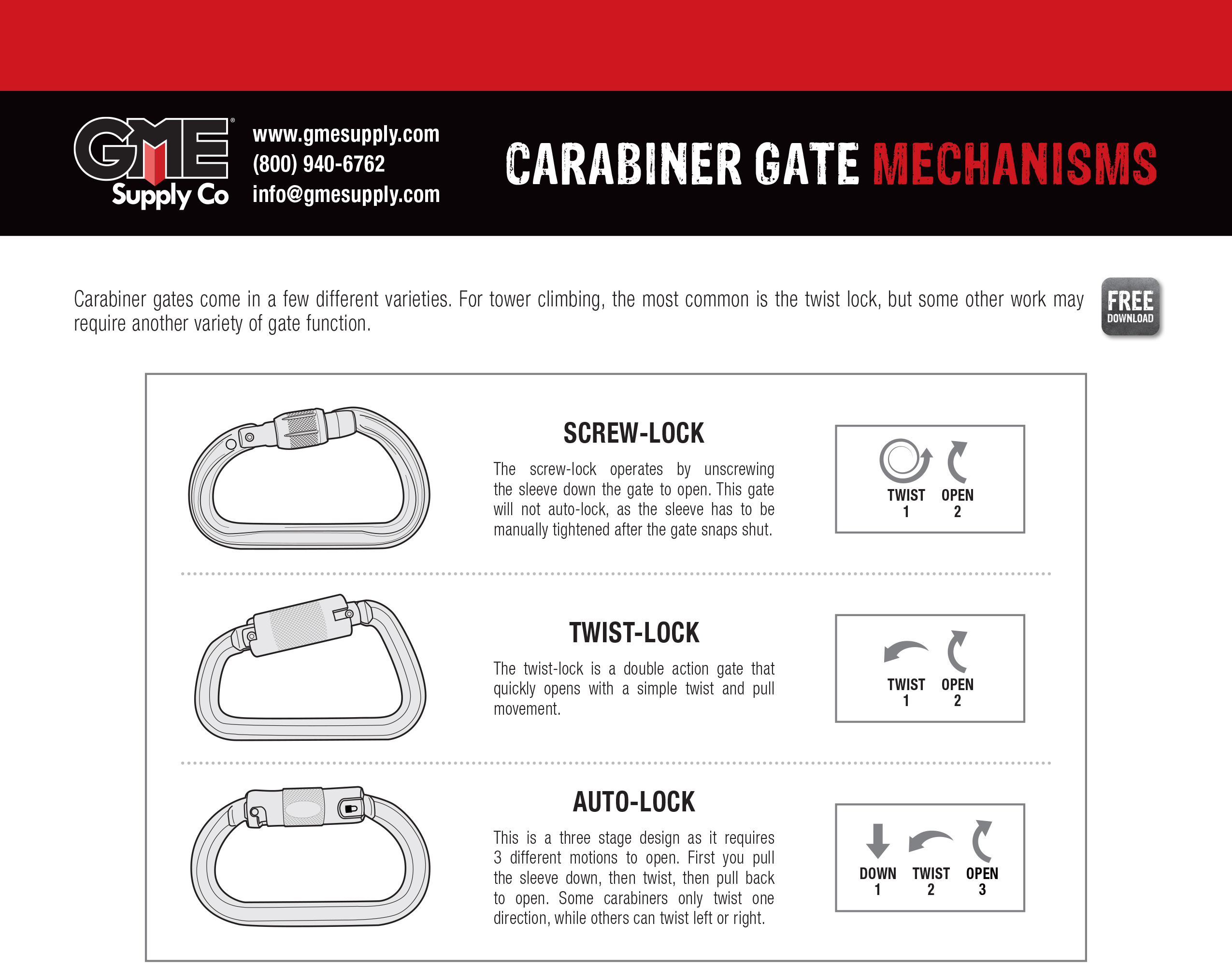 Click here to download a free PDF copy of the above poster.
Got more questions about carabiner gate mechanisms? Click here to contact one of our Gear Experts®.
→ Click here to see our full selection of carabiners
Carabiners: Playlist
---
Get Social
---
Be sure to follow us on social media to keep up with everything GME Supply has going on.
Facebook | Instagram | YouTube | Twitter | LinkedIn

We're Also on Snapchat
---
Simply snap or screenshot this image ↓ to follow GME Supply!