It's that time again… We've cut prices on the AB Chance Swivel Mount Capstan Kit. We haven't run this type of deal since the end of last year, so jump on it while you can. The kit includes everything required to get to work with the AB Chance 1,000 lb Capstan Hoist. And it's all certified to work together. No hodge podge of gear here.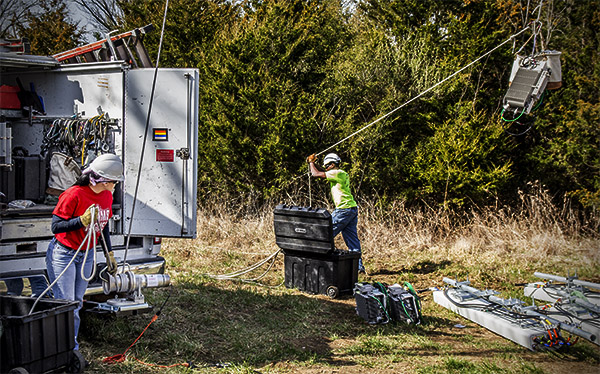 Get the Capstan, Swivel Hitch Mount, 2 Hubbell Aluminum Blocks, 2 Liftex Endless Round slings and either 600 or 1,200 feet of pulling rope for a fraction of the listed price!
The AB Chance Capstan Hitch Assembly with Swivel is designed by the engineers at Hubbell, the same folks that designed the capstan. So you know it'll work safely and seamlessly.
Plus, since it swivels, you can get the capstan aligned perfectly with the tower. Everyone has been on the jobsite where there's a tree, fence, ditch, shed, or building preventing you from lining your truck up to properly rig the capstan.
A perfect example is the photo above. This crew had purchased a kit that only included a 90° mount. Unfortunately, they were on a guyed tower that had a lot of equipment they had to work around. To make matters worse, they were in a very wooded area, so there were only a few places they could get their truck. They ended up coming into our shop seeing what their options were. Once they saw the swivel mount, the regretted trying to save a buck buying a limited mount.
No worries with this set up. Simply get your truck close to where you need it, then, spin the mount around to align your capstan. Then get to lifting.
Click here to see the deal, and do it fast. You have until Monday, July 13th to save some dough. Then, check out our unboxing video to see how it'll arrive at your doorstep.