Regardless of your profession, if you work with rope, Sterling provides the best hardware and safety rope for your needs. We've posted about the fine products made by Sterling Rope in the past. They're the leading manufacturer of rope, sewn cord, and climbing hardware. They do it all right here in the USA. Their HTP Static is the most durable and best performing static rope available. The 12mm Dyneema slings are super lightweight, and unbelievably light. And the pocket hauler is a complete mechanical advantage system that you can literally put in your pocket. Be sure to check out our video playlist with all our Sterling Rope videos.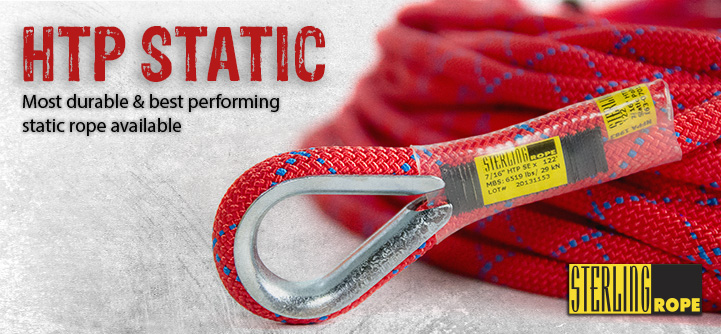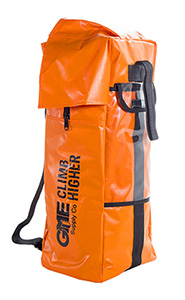 Now, you have all that rope, what are you carrying it in? Lucky you, our new Rescue Rope Bag just came out. It's very durable, and can haul around a ton. It has a gusseted bottom for moisture resistance, and a protective flap on the top to keep weather out. A document pocket in the front lets you show what's in it, or what crew it belongs to. Carry it using the comfortable backpack straps or the side carry handle. And you know it's a GME Authentic with its sharp Climb Higher graphics.
Also popular is our Premium Equipment Backpack. There's literally nothing else like it. It has a padded back area, a durable, double stitched plastic bottom with drain holes, and accessory loops on the front to hold your extra gear. It's also stamped with the exclusive Climb Higher logo.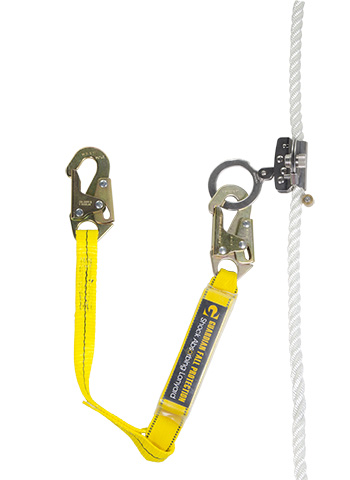 New from WestFall Pro is the 60601 Rope Grab Assembly. It pairs their best-selling 5/8" rope grab with a 3 foot lanyard. Unlike other rope grab/lanyard combos, this uses a lanyard with snap hooks on each end. If your lanyard is permanently attached to the rope grab, to move the grab post a tangled line or guy wire, you have to completely remove the rope grab from the lifeline or reach back to your back D-ring to remove the lanyard. This way you can maneuver without the hassle.