A lot of construction these days involves building up. Cities are running out of room to spread out, so building up makes sense. The problem with building up is there's usually nothing above you to attach your fall protection. Cue the
Nano-Lok Edge
.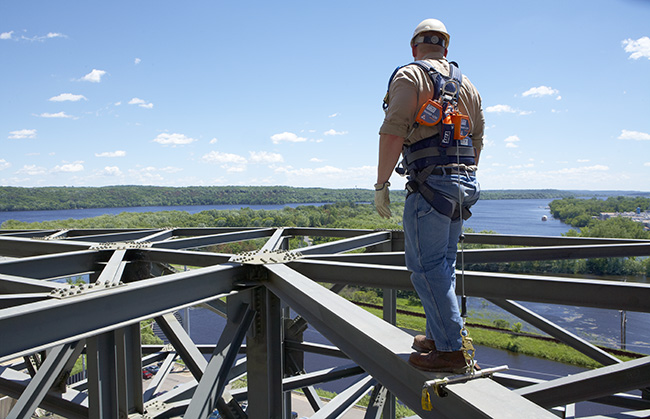 You work – and live – on the edge. The Nano-Lok Edge from
DBI Sala
will keep you safe. It's packed with a galvanized steel lifeline. The leading edges of steel structures are often jagged and unfinished. These razor-sharp steel bits are bad news for traditional fall protection. The complete Nano-Lok Edge system is designed to keep you safe in these situations. Traditional equipment isn't made for foot-level tie-off. Having a lanyard dragging behind you on a beam creates a gnarly trip hazard. It could get hooked up on an obstruction or even tangled in your boots, causing you to go down. Also, for foot-level tie-off, the gear must be designed to absorb greater forces since you'll be falling from a greater distance. And that's not just the lifeline; The whole device has to be beefed up!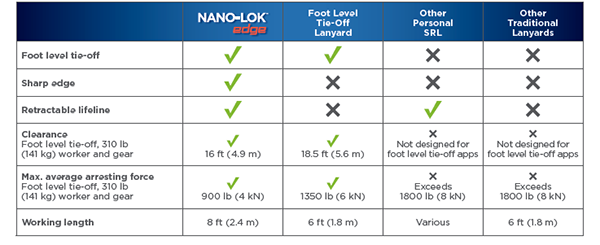 Ever worn an SRL and been annoyed by the way it bangs around on your back D? Not the case with the Nano-Lok Edge, pal. The pack adapter system connects under the D-Ring, plus secures down the shoulder straps. Three points of contact stabilize the entire unit and spread out the weight over your whole back. It also acts as an energy absorber, which reduces the fall energy on your body, and on the lifeline. You'll also have complete freedom to twist and rotate any direction, since the SRL's swivel on the pack adapter. No more twisting and tangling. Nice.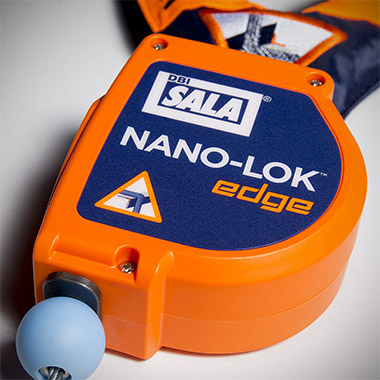 Want the Nano-Lok Edge? Look for the bright orange, impact-resistant housing. It makes it clear that you're grabbing the right gear to head up to the top of the steel. Look for the global sharp edge icon, as well. Finally, the Nano-Lok Edge is available as either a single leg or twin-leg if you operate in 100% tie-off mode. (Highly recommended.) It also comes in a variety of hook options from rebar hook to aluminum carabiner, to tie-back. You'll find the option you need. See all of our
SRL's here
.