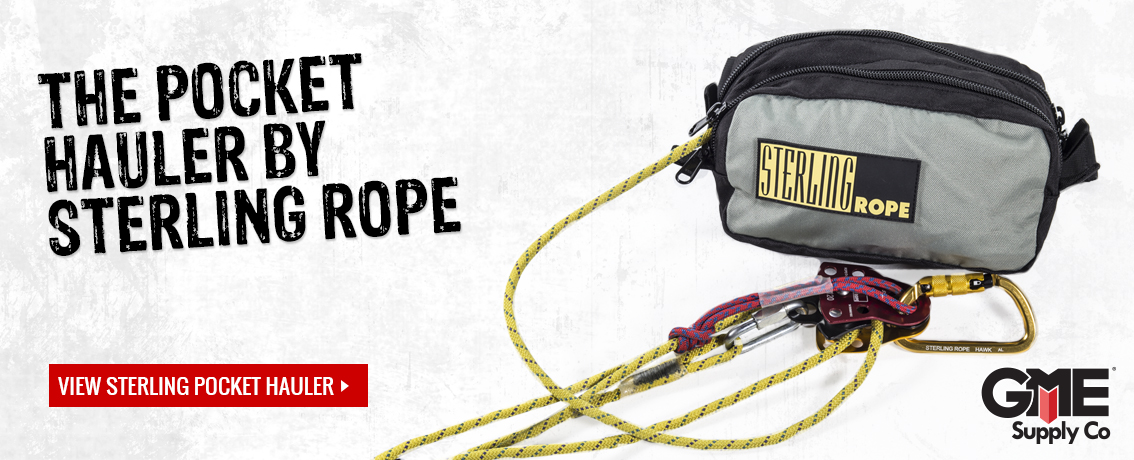 Certain situations call for a single person or team to lift an object or person that they normally wouldn't be able to lift. That's where mechanical advantage comes in. This week our
Gear Experts®
 are going to talk about the
Sterling Pocket Hauler
and how it can provide a mechanical advantage for a range of applications.
Mechanical Advantage
---
First things first, let's talk a bit about mechanical advantage. Mechanical advantage is "
the advantage gained by the use of a mechanism in transmitting force; specifically: the ratio of the force that performs the useful work of a machine to the force that is applied to the machine
". Basically, mechanical advantage is the number of times the device multiplies the force you apply. Need to lift 60 pounds but only strong enough to lift 30? A device with a 2:1 (2 to 1) mechanical advantage will help you achieve that lift.
The Pocket Hauler
---
The
Sterling Pocket Hauler
 is a small, lightweight, simple to operate system that provides a 4:1 or 5:1 mechanical advantage. This device makes lifting extremely easy for use in rescue, adjustable directional, tensioning, or a number of other rigging needs. The Sterling Pocket Haul System comes with everything you need to get the job done. It includes: → (1) 50' 8 mm Rope with a Sewn Eye; → (2) Aluminum Mini-double Pulleys; → (2) Aluminum Auto lock Carabiners; → (1) 6 mm Prusik Cord; and → (1) Screwlink Carabiner
**
The pocket hauler does not come pre-rigged. But don't worry – we've got you covered. You can check out our video on how to properly rig the Sterling Pocket Hauler Below.
Save Energy
---
To prove how much energy the Sterling Pocket Hauler's mechanical advantage can save you, we did an experiment. In our experiment, we used a
Rock Exotica Enforcer LC1 Load Cell
to test the loads. We had a volunteer rig up to the haul system and used the Load Cell to show that he was 182 pounds. The next step was to change the configuration of the Load Cell to allow it to measure how much force was required to lift the volunteer using the haul system. In the 4:1 configuration it took 50 pounds of force to lift 182 pounds of weight. In the 5:1 configuration it only took 40 pounds of force to lift 182 pounds of weight. See the full experiment in the below video. Looking for more information about mechanical advantage or the Sterling Pocket Hauler?
Click here
 to contact one of our Gear Experts®!
**The content of this blog is not intended to replace proper, in-depth training. Manufacturer's instructions must also be followed and reviewed before any equipment is used.
→
Click here
to check out the Sterling Pocket Hauler →
Click here
 to check out our full line of Sterling Products
The Sterling Pocket Haul System: Video
---
Get Social
---
Be sure to follow us on social media to keep up with everything GME Supply has going on.
Facebook
|
Instagram
|
YouTube
|
Twitter
|
LinkedIn

We're Also on Snapchat
---
Simply snap or screenshot this image ↓ to follow GME Supply!