Extension cords
are pretty much everywhere. You can buy them from us, a hardware store, a grocery store, even gas stations and truck stops. It's not like they're hard to use. It's pretty straight forward… Plug it into the outlet, plug your device or tool into the other end. But their simplicity doesn't mean they can't be used incorrectly.
Check out our buyer's guide video above to learn about jacket type designations, gauge ratings, maximum amperage, voltage, and more.
Have you ever seen a series of numbers on the packaging of
extension cords
? Those letters mean very specific things. Knowing their meaning can help you purchase the right cord for the job, and keep you safe. Reference the chart below for their meanings!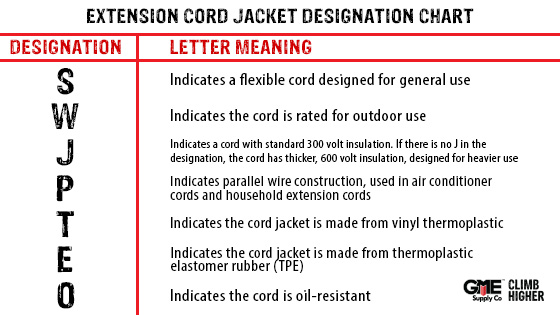 Alright… now that you've got your
extension cord
, where's your power coming from?
Generac
makes some of the most reliable, easy to use generators around. They use motors that were actually designed to be used on a generator. That means you get clean, steady, reliable juice to run your expensive tools and sensitive equipment. See our selection of
Generac generators
here. And while you're at it, peruse around the rest of our
power and lighting categor
y. The
Pelican 9420XL LED Work Light
has been very popular, and for good reason. Check out the video below to see it in action.