As we wrap up 2019 and look ahead to not only a new year but a new decade, we wanted to take a moment to recognize some of the best gear of 2019. We carefully curated the following list based on what was most popular amongst our customers or gear we just think is downright awesome and everyone should know about. So, without further ado, lets jump right into the top 10 best gear of 2019
DBI Sala Suspension Trauma Safety Straps | Shop Now
---
Coming in at # 10 is
Suspension Trauma Safety Straps
from
DBI Sala
. They're easy to install on any harness, relatively cheap, and might just save your life one day.
Suspension Trauma, or Orthostatic Shock
, is a life-threatening hazard that's often overlooked. If a safety harness is a part of your daily uniform, there's no reason you shouldn't have some of these bad boys attached to it.
Competent Climber // Competent Rescuer Course | Shop Now
---
While # 9 isn't exactly a tangible item, it's nonetheless something that nobody should be climbing a tower without, and that's
Competent Climber and Competent Rescuer Training
from
Safety LMS
. This three-day course gives you one full day of classroom training and two days of Practical training on the tower with some of the best instructors in the industry. After this course, you'll have the knowledge, experience, and most importantly certification to call yourself a competent climber.
Rock Exotica Omni-Block 4.5 Inch Rigging Pulley / Material Handling Block | Shop Now
---
# 8 on our list goes to the
Rock Exotica Omni-Block 4.5 Inch Rigging Pulley / Material Handling Block
. This game-changing block is the largest, most efficient block from
Rock Exotica
. This big brother to the
MHP55
was designed for
3,000 Pound Capstan Hoists
and can handle ¾"
load line
. Have full confidence in your lifts with the MHP58.
Ty-Flot Quick-Switch Starter Kit 2 | Shop Now 
---
At # 7 the
Tyflot Quick Switch Starter Kit 2
is something no climber should be without. This year we saw an
industry-wide emphasis
 on
tool tethering
, and we think the quick switch is one of the most innovative solutions to come from that. You can easily swap tools from a bolt bag or between workers while keeping it 100% tied off with its unique docking system.
Kenwood NX-P500 2-Watt Dual-Mode Two-Way Radio | Shop Now
---
At # 6 we chose the
Kenwood NX-P500 Two Way Radio
.
Communication on the Jobsite is paramount. And, with a ton of power packed into such a small waterproof radio, the NX-P500 secures our pick as the best two-way radio of 2019. Plus,
Kenwood
 has tons of
accessories
for this radio to provide you with convenient communication anywhere.
Petzl Jag System Haul Kit | Shop Now
---
# 5 is the
Petzl JAG Haul Kit
. A rescue system is an absolute must on a tower site, so why not have the smallest, lightest, and quickest to deploy. The JAG has all the little bells and whistles to create an incredibly intuitive haul system.
DBI Sala ExoFit Tower Climbing Harness | Shop Now
---
# 4 goes to the
DBI Exofit Strata Tower Harness
. Those of you in the tower climbing industry are probably no stranger to this harness. Its biggest differentiator is its liftech load distribution system which takes the weight off your shoulders and distributes it down to your hips. Believe us, there is no other tower climbing harness quite like it.
AB Chance 3,000 Pound Capstan Kit | Shop Now
---
Coming in at # 3 is the
AB Chance 3,000 Pound Capstan Kit
. Chances are pretty good that you had to do some kind of heavy lifting over the year. With our selection of
capstan kits
,
 
we can outfit your crew with everything you need to perform those lifting tasks safely and efficiently.
Narda Radman 2XT RF Monitor | Shop Now
---
At #2 we have the newly released
Narda Radman 2XT RF Monitor
. The Industry finally has a 5G ready RF monitor that won't cost an arm and a leg. This device features isotropic sensors for both the E and H Fields, meaning it measures both electrical and magnetic radiation omnidirectionally. Not to mention it has the largest frequency range available at this price point that covers all current and planned 5G frequencies.
Petzl Vertex Helmet | Shop Now 
---
Taking the cake for the # 1 piece of gear for 2019 is the updated
Vertex Helmet
 from
Petzl
. They've taken the wildly popular original vertex climbing helmet and given it an upgrade with better materials, a more efficient design, and a huge line of compatible accessories. This helmet is available in both vented and non-vented versions.
Honorable Mentions
---
Trying to limit our list to our top 10 items was difficult. So, we decided to make an honorable mention section outlining some more of our favorite items from the year.
Gear Up with Gear Experts: The Podcast
---
If you haven't already checked out 
Gear Up with Gear Experts
, our podcast dedicated to at-height, industry, and construction, it is available for download! You can find it on all major podcast listening platforms like 
Apple Podcasts
, 
Spotify
, 
Google Play Music
, + your favorite podcatcher of choice. And, you can head on over to 
gearexperts.com
 to follow us on social media, check out our detailed show notes, and sign up for updates.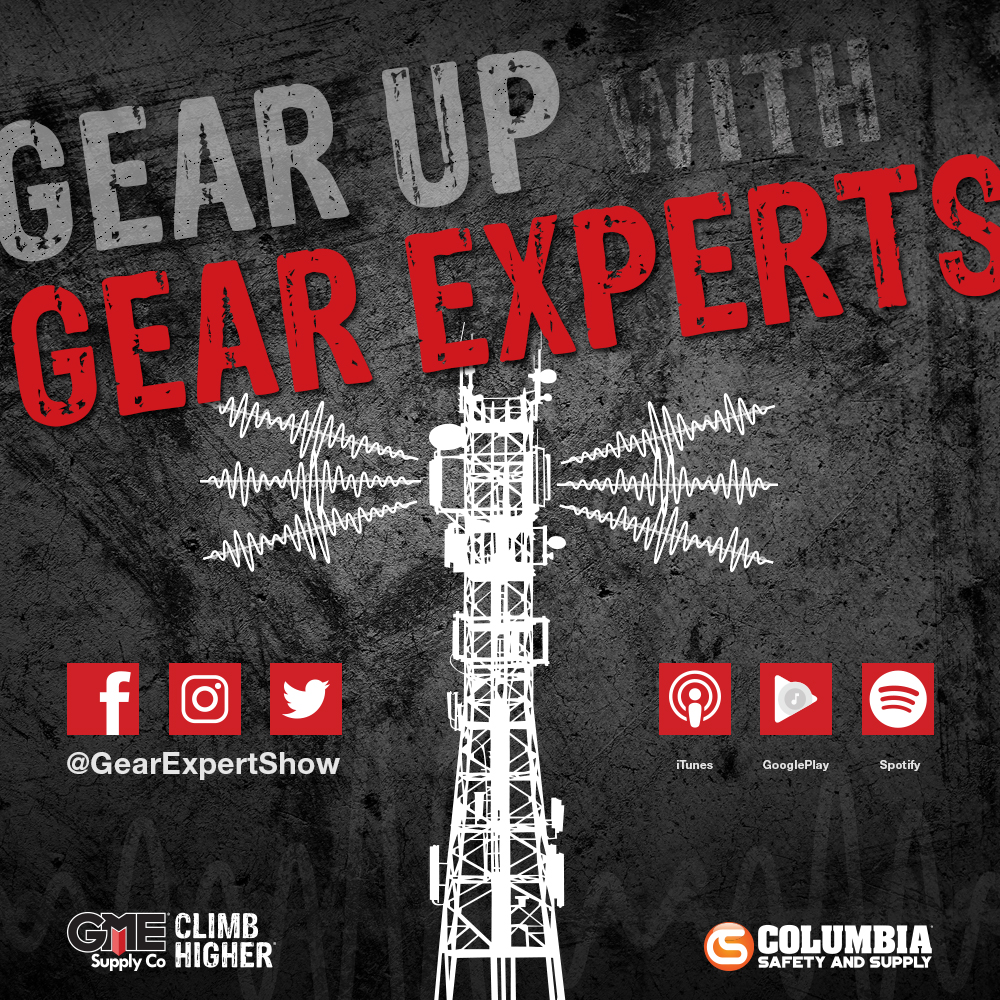 Get Social
---
Be sure to follow us on social media to keep up with everything GME Supply has going on.
Facebook
 | 
Instagram
 | 
YouTube
 | 
Twitter
 | 
LinkedIn