Maxiflex gloves from PIP are already very popular because of their ultra-thin, seamless construction. Working in them is as close as you can get to working with your bare hands. And now, that same ultra-thin feel is available with high cut resistance.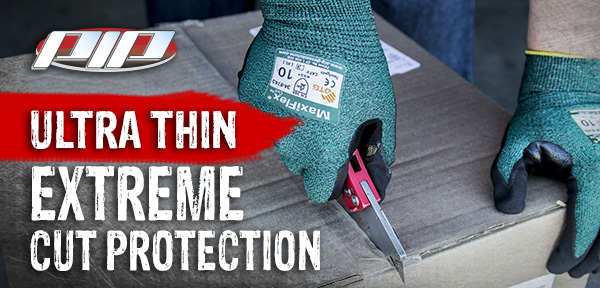 Cut rated gloves are measured using the EN 388 standard. This rating has four parts, represented by numbers below the EN 388 stamp. The meaning of the numbers can be remembered using the phrase, ACT Professionally. A = Abrasion, C = Cut, T = Tear, and P = Puncture. Each is rated from 1-4 except cut, which is rated 1-5.
The Maxiflex Cut has a rating of 4331. It's one of the thinnest forms of hand protection with that high of abrasion, cut, and tear rating. Obviously, the ultra-thin glove isn't the greatest for puncture, so if that is a danger in your work, you might want to use a different type of hand protection.
The perfect glove keeps your hand protected, while still maintaining mobility, dexterity, and comfort. The Maxiflex Cut gets this done using a Nitrile coating that has 360 degree breathability. It allows all natural body heat and moisture to escape the glove, but keeps your grip and tactile feel intact.
Head over to our hand protection section to see the wide variety of gloves available. There's something for everyone. There is anything from economy, disposable gloves, to specialty, task-specific gloves. Maybe you even need some thermal, insulated, waterproof gloves for the upcoming cold season. If you have any questions about which gloves would be best for you, give us a call, or chat us online.