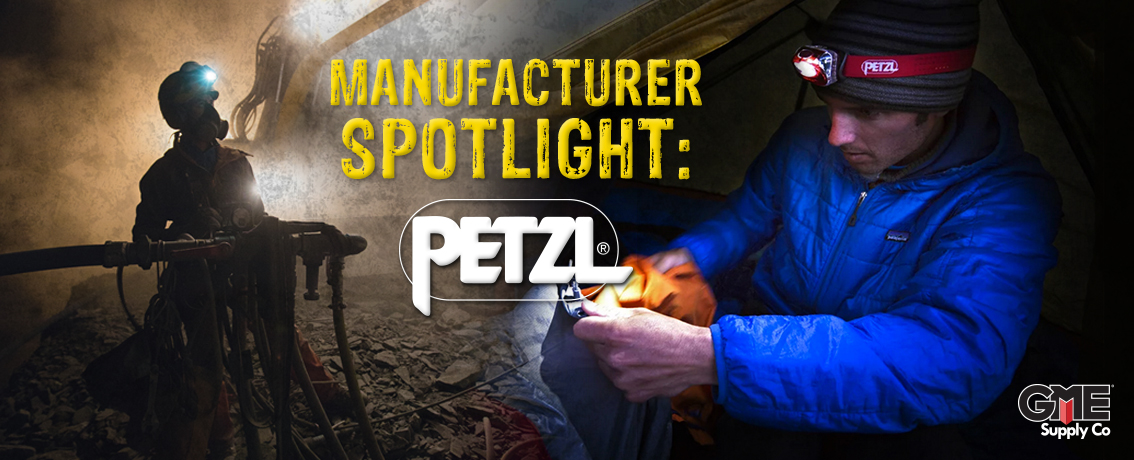 We know that as a tower climber your gear is important – because it can be the difference between making it home every night, and not. But, where does that gear come from and how did the company that made your gear get started? This week our Gear Experts® have teamed up with Petzl to bring you a special look into one of the companies that pour their soul into your safety.
The Beginning
---
Petzl's story begins above the French town of Grenoble in the early 1930s. Two brothers, caked in mud and in their early twenties, emerge from a cave. For the elder brother, Edmond, this caving experience was one in a series of adventures that would lead him to Canada. For the younger brother, Fernand, this experience would change his life and the lives of many others.
Fernand Petzl was an inquisitive tinkerer. From an early age, he learned how to work with machines and by the age of twenty-five he had his own business doing industrial modeling for a nearby factory. It was around this time that Edmond took him caving.
Innovation
---
Fernand spent his time exploring the limestone mountains above Grenoble that are bored with caves. This was before the invention of nylon ropes, so Fernand and his friends carried hemp cords and wooden ladders into the caves. Soon, all of Fernand's free time was spent either underground or in his machine shop devising better equipment for his subterranean explorations.
Strong nylon rope changed the nature of caving. A rope could be coiled into a tight bundle and carried through the cave, then unfurled to span distances or aid long climbs. With this new tool came new devices and techniques for climbing and descending rope within caves, and here is where Fernand Petzl, his knack for tinkering, and his small shop became famous in the caving community. The name PETZL which explorers had once found marking new passages underground, now became stamped into the actual equipment cavers carried.
Cavers from all over France would gather in the workshop and discuss the new techniques, technology, and exploration. Through this exchange of ideas, Fernand would modify or invent new devices for ascending and descending rope. Others began to take notice of the equipment used for cave exploration. Mountaineers began purchasing rope ascenders and descenders as they raced to summit the world's highest peaks. By the 1970s Fernand had hired his first employee and his son, Paul, was working in the family shop.
From Recreation to Profession
---
In spite of Fernand's progress, it wasn't until the 1980s that Petzl first moved in a direction that would change its very DNA. Ever since Fernand's work in caves other explorers had taken notice of the equipment made by the father-son team. But it was the Électricité de France (EDF, France's national utility company) that helped change the business.
At the time lineman worked with bulky, uncomfortable, outdated safety equipment and accidents were not uncommon. The EDF first looked to mountaineering gear, but soon the Petzls developed a harness specifically designed for the needs of a professional. Like the cavers many years before, industrial workers had discovered the many advantages afforded by fixed ropes. By now the Petzls' company employed over thirty people.
Revolutionary Gear 
---
Two of the innovations created in Crolles, France, have fundamentally changed the face of the rope access community: First, the I'D (for Industrial Descender) is available in small and large sizes. The I'D grew from the STOP descender used in caves, then the technology was evolved for climbers as the GRIGRI, and finally expanded upon into the I'D. This device became the go-to descender for anyone frequently descending fixed lines.
The second device that changed Petzl's line was the ASAP (the name comes from its purpose to stop As Soon As Possible). Used as a backup for rope access and as a fall arrest device, the ASAP uses centrifugal force to sense when a user is falling on the rope and arrests their fall. While its ability to track with the user as they move up and down was welcomed, the major development in the ASAP was how it took into account the user's psychology. Previous devices could be disengaged by squeezing or grabbing them. Unfortunately, this is also a worker's natural reflex. With the cam wheel enclosed in the ASAP, grabbing around the device would not interfere with its locking ability.
Modern Day
---
Today the needs of industrial workers are more than half of the Petzl focus, with specific tools and devices for arborists, rope access techs, tower climbers, riggers, first responders, tactical needs, and other workers operating at height. Though Fernand passed away in 2003, Petzl remains a family owned and operated, business. Fernand's son Paul runs the company, and Paul's sons Olivier and Sebastian both work for the firm, continuing the innovation and tinkering tradition of their grandfather, but now well beyond the quiet caves of the French Alps.
Need to know more about the full line of Petzl gear? Click here to contact one of our Gear Experts®.
→Click here to see our full selection of Petzl Gear
→Click here to see the Petzl I'D
→Click here to see The Petzl ASAP
Petzl Gear Playlist
---
Get Social
---
Be sure to follow us on social media to keep up with everything GME Supply has going on.
Facebook | Instagram | YouTube | Twitter | LinkedIn

We're Also on Snapchat
---
Simply snap or screenshot this image ↓ to follow GME Supply!