We've talked about two-way radios before. They increase productivity. They're more advanced, durable, and reliable than ever. They solve a lot of problems. And now Kenwood has rebates on some of the most popular ProTalk radios around.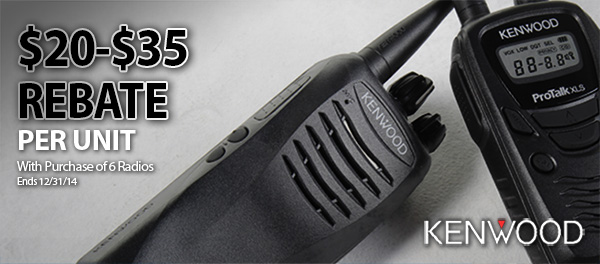 Now through the end of December 31st, get $20-$35 back when you buy 6 or more radios. This rebate program includes our best seller, the TK-3400U4P. Buy six of 'em and you'll get $25 back per unit. We've worked with Kenwood to get a specially designed radio that's popular with tower climbers. It leaves the factory with a stubby antenna. Unlike the longer standard antenna, the stubby doesn't get in the way when you're working up on the tower. But don't worry, there's no loss of signal with the compact antenna style; Just increased convenience.
The TK-3230 and PKT-23 also have rebates available. The TK-3230 is a small 1.5 Watt radio, that still meets military standards. Get $25 back per radio when you buy 6. If you're looking for something even smaller, pick up the PKT-23. It still pumps out 1.5 Watts of communicating power, but in an ultra-compact package. It's smaller than a deck of cards, but is still as versatile and strong. Get $20 back per radio with a purchase of six or more.
See all the rebate info here. Can't decide which is best for you? Check out our Two-Way Radios video playlist. Then give us a call, or chat us online and we'll get your order going.