OSHA has strict rules pertaining to many things on a job site. Some are complicated and difficult to follow, others are very simple. One thing required for all jobsites is proper signage.
All signs and symbols have to be visible at all times when work is being performed. And they're not just for employees, if there are any visitors on the site or any public near, they need to be properly warned any dangers that may be present.
For the Tower Climbing industry, the main signs that are important fit into two categories: Danger and Caution.
Danger
These signs indicate immediate danger. They show that special precautions are necessary. Examples are "Construction area, hard hat required" or "Falling Material." When a worker saw these signs they would immediately become aware of any present danger and they'd know how to protect themselves.
Caution
These signs warn against potential hazards or the advice caution against unsafe practices. Examples of caution signs would be: "Watch out for trucks" or "Radio frequency hazard." These signs don't necessarily say a hazard is present, but rather that there is a potential for a hazard to arise.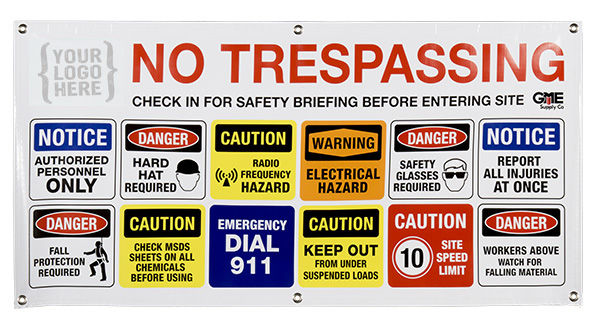 Now… the list of required signs can get quite lengthy. And a bunch of signs will add up in costs. That's where our Job Site Safety Banners come in. We've put together complete banners that include all of the most common signs for both the tower climbing and general construction industries. Now you won't have to waste time with ordering each sign individually, and you won't have to figure out how to display individual signs at your job site. The banner is simple to hang, so you're in compliance right away.
Plus it's easy to move to a new site, and you won't have to worry about it falling apart. These banners are made of Extra-Heavy Duty Duratex 13oz. PVC material. And they have reinforced grommets for convenient hanging.
You can also customize banners for your company. The Custom Logo banners have a spot for your company's logo in the corner, so it's clear whose turf you're on. Simply include your logo when you add the product to the shopping cart online, or email it to the representative after you get off the phone, and we'll take care of making sure the logo looks great on the banner.