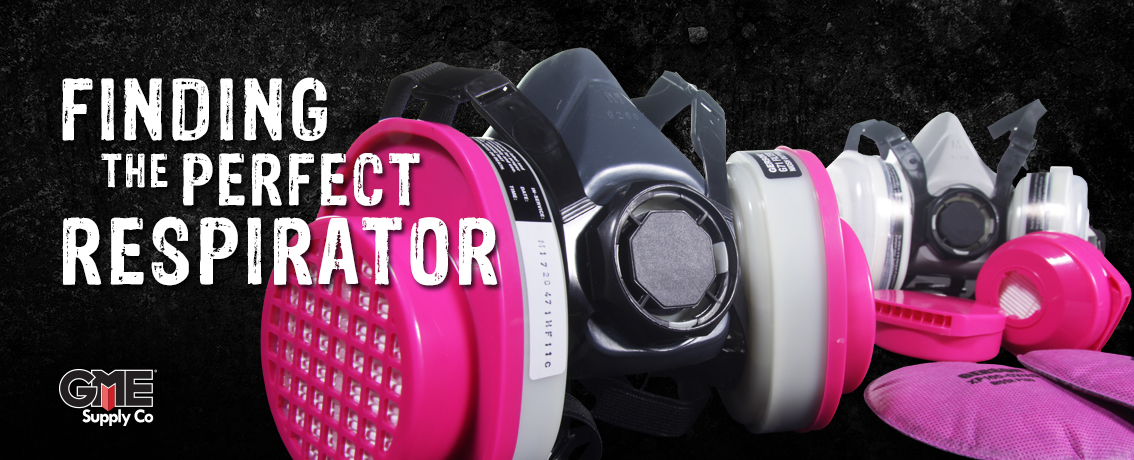 When working in hazardous environments or with hazardous materials taking every precaution to protect yourself and your body is probably one of your top priorities.
Respirator
s are an important part of protecting yourself in those environments. This week our
Gear Experts®
 have put together a guide to help you find the perfect respirator.
Step 1: What are the Hazards
---
It's important to know what hazards you are going to face when looking for a respirator. Not all respirators are created equal and each type has certain hazards that it is better suited to handle. The first step is to identify what the hazard form will be – this means particles, gas/vapors, or both. You also need to know what hazards you will encounter. Some common hazards are: →Particulates – Silica, Hazardous Dust, Fibers →Welfume – Stainless steel & Galvanized →Lead →Asbestos/Mold →Bleach/Ammonia – General cleaning products →Pesticides & Insecticides →Solvents – Water-based latex →Chemicals – Sulfur Dioxide, Chlorine, and Ammonia While this isn't a complete guide for every hazard you might come into contact with, it is a good base to start with. We cannot stress enough how important it is for you to know the hazards of the next job site. If you're not sure what category your hazard would fall into
click here
 to reach out to one of our Gear Experts
®
.
Step 2: Assess the Situation
---
Once you know what potential hazards you will encounter and what form they will be in (particles, gas/vapor, or both) you then need to determine whether respirators are needed and if so, what kind. The job site should be assessed for employee exposure to harmful substances. These results are most commonly measured in ppm (parts per million) or mg/m3 (milligrams per cubic meter of air)
OSHA's Respiratory Protection Standard 29 CFR 1910.134
 outlines the requirements for respiratory protection on a job site. As a rule of thumb, if the measurements are hard to read, or you are right on the cusp of needing respiratory protection, then it's best to use it.
Step 3: Level of Protection
---
You now know that you need a respirator, but what kind do you actually need? There are 3 main styles of respirators available: disposable, half mask, and full face. Disposable respirators are the most basic form and provide short-term protection for certain types of hazards. Keep in mind that disposable respirators may not be suitable for all hazards. Half mask and full face respirators are generally reusable and provide higher levels of protection. They also provide the added convenience of offering the ability to switch out filters based on specific needs.
Filters
---
Each respirator will have an area for a filter – this is what actually removes the hazards from the air. Disposable respirators come with filters built in but most half and full face respirators have filters that can be changed. Filters can have one of 3 letter class ratings: →Class N – Not oil resistant →Class R – Resistant to oil →Class P – Oil proof Respirators will also have one of 3 number class ratings →95 – filters 95% of all particles measuring 0.3 microns or larger in diameter →99 – filters 99% of all particles measuring 0.3 microns or larger in diameter →100 – filters 99.7% of all particles measuring 0.3 microns or larger in diameter (this filter is typically an HE or HEPA quality filter) You will generally see a filter class rating in this form: N95 or P100.
Standards
---
OSHA will only allow respirators that have been approved by the National Institute for Occupational Safety and Health (NIOSH) to be used in a workplace. OSHA recently implemented the
29 CFR 1926.1153
 regulation which outlines new standards on silica dust exposure for contractors. Please refer to
OSHA's Respiratory Protection Standards
for more information on respirator requirements.
**The content of this blog is not intended to replace proper, in-depth training. Manufacturer's instructions must also be followed and reviewed before any respiratory protection equipment is used.
Need help finding the right respirator? Our
Gear Experts®
 
are here to help. →
Click here
 to see our full selection of respirators and filters
Get Social
---
Be sure to follow us on social media to keep up with everything GME Supply has coming up in 2018. It will be exciting – we promise!
Facebook | Instagram | YouTube | Twitter | LinkedIn | Google+

We're Also on Snapchat
---
Simply snap or screenshot this image ↓ to follow GME Supply!