Galvanized steel is everywhere. From towers, bridges, and buildings, to street signs, hand rails, and fences, it makes a durable, long lasting finished surface. Galvanization protects against rust and corrosion, making steel last a really long time.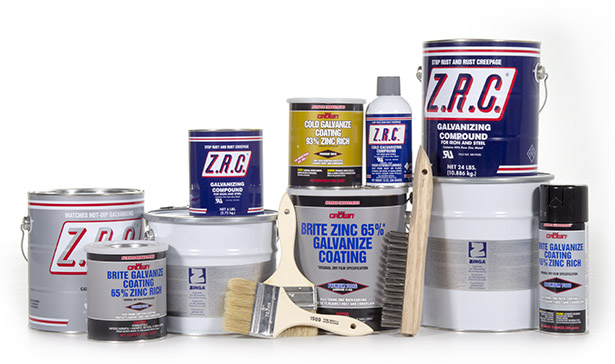 Most steel is galvanized through a hot-dip process. They literally have giant tubs of molten zinc that they use to coat huge pieces of steel at one time. This is great for large scale galvanizing operations, but when you need to galvanize a small spot on a tower after doing some welding, filling a tub with zinc and melting it isn't really practical. Enter Cold Galv Compound.
Cold Galv still uses zinc to protect exposed steel, but it goes on like normal paint. It can be brushed, rolled, or sprayed onto the surface of the steel. It also comes in few different finishes. The bright finish will match a recently hot-dipped piece of steel, where flat will blend in with metal that's been out in the elements for a while.
Cold Galvanization Compound is also available in a few different levels zinc content. The more zinc in a compound the greater the protection. Choose from anywhere from 65% to 96% rich zinc.
Application is easy. Just clean the steel of any dirt, oil, or rust. A little elbow grease might be required to clean off rust using a steel brush. Then, just apply the cold galv like normal paint. Be sure to check with manufacturer specs for ideal temps for application, as well as dry times.
Check out our video to see a comparison of some of our most popular compounds.