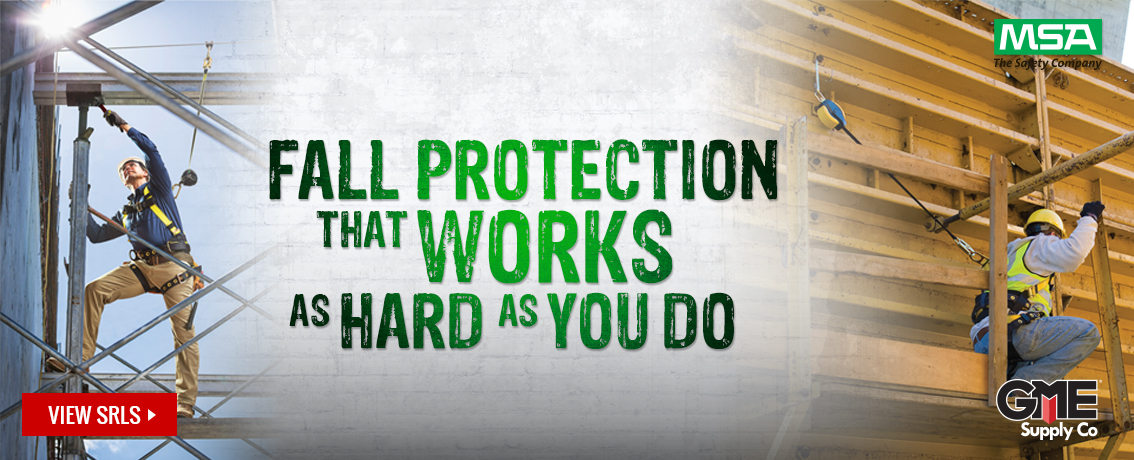 Fall protection equipment is an important part of the job for at-height workers. Here at GME Supply, we pride ourselves in keeping workers like you safe day in and day out. That's why our Gear Experts® have put together this blog post that outlines the need-to-know about SRLs and PFLs.
What Does That Stand For
---
When you read SRL & PFL if you don't already know what it means it can be confusing. So, let's get down to the basics first. SRL stands for Self-Retracting Lifeline and PFL stands for Personal Fall Limiter.
What's the Difference
---
An SRL is a device that contains a spring-loaded retracting web or cable lanyard wound around an internal drum. In the event of a fall, it automatically locks and arrests the fall of a worker. A PFL is the exact same thing as an SRL, it's just another name for it. I know – it seems kind of silly, but that's just the way the world works sometimes. But, if we had to try and visualize a difference, PFLs are typically smaller and have the ability to be attached directly to your harness. While there isn't a specific difference between a self-retracting lifeline and a personal fall limiter, there are different classifications, styles, and variations. We've covered classifications in detail already in a previous blog post which you can find here. In that post we cover the ANSI Z359.14-2012 standard which establishes A and B classifications for self-retracting lifelines.
SRL & PFL Styles
---
Depending on the job at hand the type of SRL that you require can vary. Below we are going to break down body warn vs. mounted SRLs and discuss Leading Edge and Foot Level Tie-Off SRLs.
Body Worn vs. Mounted
Larger SRLs are mounted above the worker and connected directly to the anchorage point. The lanyard then runs down to connect to the user's dorsal D-ring on their harness. These SRLs come in lengths ranging from 8 feet to over 100 feet. Body worn SRLs, usually what are referred to as PFLs, are compact devices that connect directly to the user's harness and are much shorter. Generally, they come in lengths ranging from 6 feet to 8 feet. To tie-off when using a body worn SRL the user connects the tether to an anchorage point. Body worn SRLs can also come in a twin-leg configuration for 100% tie-off.
Leading Edge + Foot Level
Most SRLs are designed to only be mounted above the user. However, sometimes that's not an option when on the job. For situations where mounting an SRL above the user is not possible, SRLs specifically designed for Foot Level + Leading Edge are required. ANSI Classifies these as SRL-LE devices with the LE standing for Leading Edge. These SRLs incorporate special factors designed to absorb the extra energy associated with tying off at foot level as well as more robust cables to resist breaking when ran against a leading edge.
Other Variations
While body warn, mounted, and leading edge/foot level SRLs and PFLs are the most common, there are additional variations that you might need for those special jobs. Other potential options for SRL and PFL variations include:
→ Sealed design for use in harsh work environments where dust, grease, and moisture may be prevalent or severe.
→ Rescue devices which are referred to as SRL-R (the R is for rescue – I know, we were surprised, too) by ANSI for auto retrieval. These are commonly found on confined space systems.
→ Tie-Back which can be used when connectors cannot be secured to anchor points.
→ Arc Flash rated devices which are to be used when working in electrical environments.
Swing Fall Prevention
---
SRLs are great devices because they allow you to work much farther away from an anchorage point than other forms of fall protection. Remember that mounted SRLs are available in lengths of over 100 feet. But, as with all things in life, the added distance offers a downside. That downside is that swing falls become much more of a danger.
A swing fall occurs when an anchorage point is not directly overhead of a worker. The device will stop them in the required distance, but the worker may still swing a great distance. This can potentially put other obstacles, walls, or objects in the path of the worker causing a collision. To avoid swing falls, always stay in the safe zone – which is within 30 degrees of your anchor point. Swing falls can be avoided by using mobile anchorage points which will travel with the worker.
Replacement & Recertification
---
SRLs are fantastic pieces of equipment, but as with all equipment, they do not last forever. Recertification can be done on some SRLS by the manufacturer to prolong the life of the unit. This can be done after the device is involved in a fall, or after the unit has been in the field for a specific period of time. Please note that not every manufacturer offers this type of program, so you will need to check with the manufacturer for specifications on recertification. If the device is not eligible for recertification, or if the manufacturer does not offer recertification then it must be destroyed and replaced if it is involved in a fall or after a time period specified by the manufacturer.
For more information about SRLs & PFLs click here to contact one of our Gear Experts®
SRL & PFLs: The Playlist
---
**The content of this blog is not intended to replace proper, in-depth training. Manufacturer's instructions must also be followed and reviewed before any fall protection equipment is used.
→ Click here to see our full selection of SRLs & PFLs
→ Click here to check out our blog post of SRL & PFL Classifications
→ Click here to download our free SRL, SRD, & PFL 101 poster
→ Click here to see our full selection of Fall Protection Equipment
Get Social
---
Be sure to follow us on social media to keep up with everything GME Supply has coming up in 2018. It will be exciting – we promise!
Facebook | Instagram | YouTube | Twitter | LinkedIn | Google+

We're Also on Snapchat
---
Simply snap or screenshot this image ↓ to follow GME Supply!