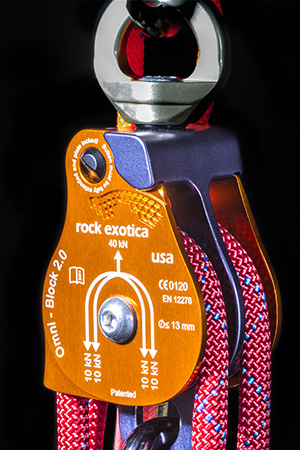 Introducing the NEW P53D Omni-Block from Rock Exotica. This is a very strong, ultra-efficient double sheave pulley. And it's the only double pulley in Rock Exotica's Omni-Block lineup with a prusik minding feature.
All Omni-Blocks have an integrated swivel, which reduces the overall height of your rigging system, and allows the pulley to automatically align itself. Plus, you can install and remove the rope without detaching the pulley from the anchor.
The P53D has a Minimum Breaking Strength of 40 kN. This is much stronger than all other Omni-Blocks. It also has a Working Load Limit of 10 kN, making it the overall strongest offering from Rock Exotica.
Rock Exotica CNC machines their Omni-Blocks from a single block of aluminum. This makes them lighter and stronger than the competition. Everything they do with their designs is done to make your work easier, and safer.
Check out the video below to see the Rock Exotica P53D Omni-Block in action.
Click here to see Rock Exotica's full lineup of great gear.