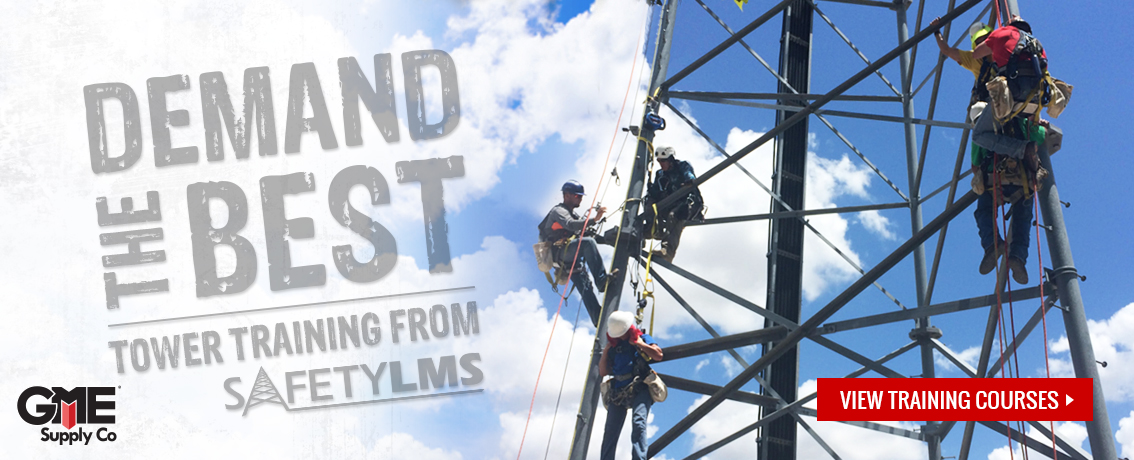 One of the most important parts of fall protection and safety for at-height workers is ensuring that all training and certifications are up to date. Finding a training that isn't outdated or taught by people who have never been on a tower isn't always easy. This week our Gear Experts® have teamed up with Safety LMS to bring a special look into one of the companies that specialize in training your crew.
The Beginning
---
The story of Safety LMS began in 1976 when John Paul "JP" Jones started his career in the telecommunications industry. At the age of 16, he took a job with Allied Tower Company in Houston, Texas. After 19 years of working in the field, JP transitioned to a Tower Safety & Rescue Instructor. During his time as an instructor, he noticed that companies really didn't have much of a choice when it came to training programs. Beyond that, the training materials were outdated and many of the trainers had never been in the field.
Eager to find a better way to train and help increase industry safety, JP started Safety LMS in 2015. The goal of Safety LMS is to change the way the industry thinks about their training.
Modern Day
---
Today Safety LMS continues to honor their mission of providing the most up to date training materials and curriculum to the tower industry. They offer a range of both in person and online classes and ensure that when you attend a Safety LMS training event, regardless of the subject, you will walk away having learned something new. On top of that, all Safety LMS instructors have prior tower experience. So, when you have a question, their answer will not only be based on standards and regulations, but it will also be based on experience.
As part of their commitment to ensuring that all training is timely and relevant to current industry trends, Safety LMS updates every course each year. Whether you are a small single team company or a national 25 team company, Safety LMS can help you find a training and pricing solution tailored to meet your needs.
Looking for more information about the selection of Safety LMS courses? Click here [insert link here] to contact one of our Gear Experts®
→ Click here to see our full selection of Safety LMS courses
→ Click here to see the online Safety LMS courses
→ Click here to see the in-person Safety LMS Courses
Safety LMS: The Video
---
Get Social
---
Be sure to follow us on social media to keep up with everything GME Supply has going on.
Facebook | Instagram | YouTube | Twitter | LinkedIn

We're Also on Snapchat
---
Simply snap or screenshot this image ↓ to follow GME Supply!