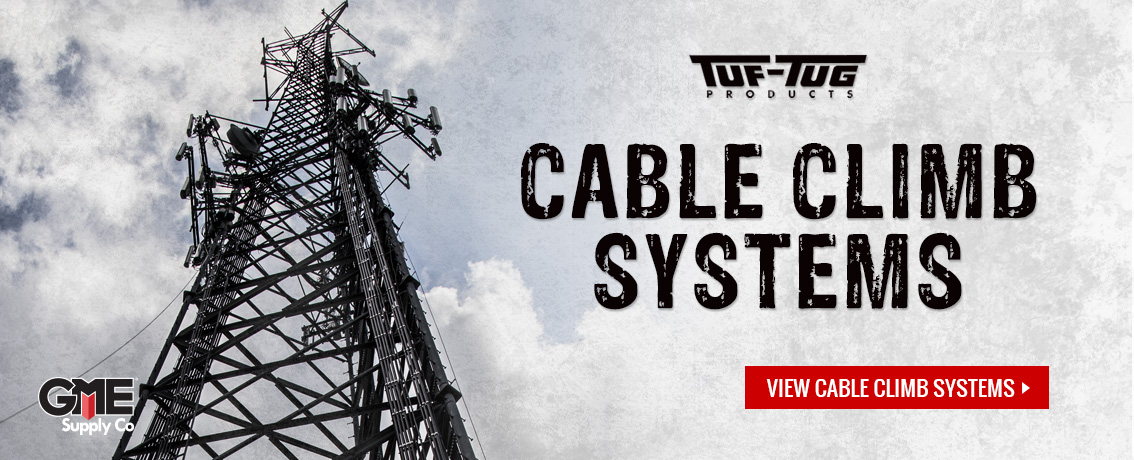 Cable climb systems, also known as a ladder fall protection system, can streamline tower maintenance projects and provide additional job site safety. The basic function of a cable climb system is to have a ladder with a cable attached to it, pre-installed on a tower. You use a cable grab, attached to your sternal D-ring, to easily move up and down the ladder. In the event of a fall, the cable safety sleeve locks onto the cable and arrests the fall. Applications for cable climb systems include towers, billboards, commercial buildings, utility structures, solar, and wind. This week our Gear Experts® are going to break down Tuf-Tug cable climb systems.
Approved
---
As legacy cable climb systems on towers begin to reach the end of their useful life, and as structures that are updated are required to have cable climb systems installed, it can start to be difficult to know which systems are approved to be used on specific sites. Tuf-Tug Cable Climb Systems are approved for installation on major tower sites by their owners. This makes deciding which system to get a whole lot easier.
What Systems?
---
Tuf-Tug makes cable climb systems for all standard towers in most standard lengths. On top of that, they also feature all of the needed equipment for the system included with the system itself – say goodbye to having to buy extra parts!
Tuf-Tug manufactures 3 systems. They are a monopole system, a fixed ladder system, and a round climbing leg system.
What's Included?
---
All systems include A stainless steel (factory swaged) cable that is cut to the chosen length. The stainless steel finish provides additional protection against harsh weather conditions which extends the life of the system.
The monopole system includes:
A cable head assembly with fasteners and impact attenuator;
Monopole cable guides;
A monopole base anchor bracket with a tension adjustment anchor bolt;
Cable clips; and
Cable fasteners.
This system is available in 100', 150', 200', and 250' lengths.
The fixed ladder system includes:
A heavy-duty upright mount bracket for solid rung ladders;
Ladder mount cable guides;
A head assembly with an impact attenuator;
Base anchor bracket assembly with tension adjustment;
Eye bolts; and
Cable clips;
This system is available in 100', 200', 250', 300', and 400' lengths.
The round climbing leg system includes:
A universal round leg head adapter bracket (which fits legs between 1.5 and 5 inches in diameter);
A round leg universal channel clamp (for up to 8 inches in diameter);
A head assembly with an impact attenuator;
Stud mount cable guides with fasteners;
A base anchor angle attachment bracket with tension adjustment eyebolt;
Thimble; and
Cable clamps.
This system is available in 150', 200', 250', and 300' lengths.
Further Customization
---
If you need additional components or even a non-standard length, these cable climb systems can be completely customized to fit your requirements. For more information on customization, or for any other questions, click here to contact one of our Gear Experts®.
→ Click here to see our full selection of Tuf-Tug Cable Climb Systems
→ Click here to see our full selection of Tug-Tug Equipment
**The content of this blog is not intended to replace proper, in-depth training. Manufacturer's instructions must also be followed and reviewed before any fall protection equipment is used.
Cable Climb Systems: The Playlist
---
Gear Up with Gear Experts
---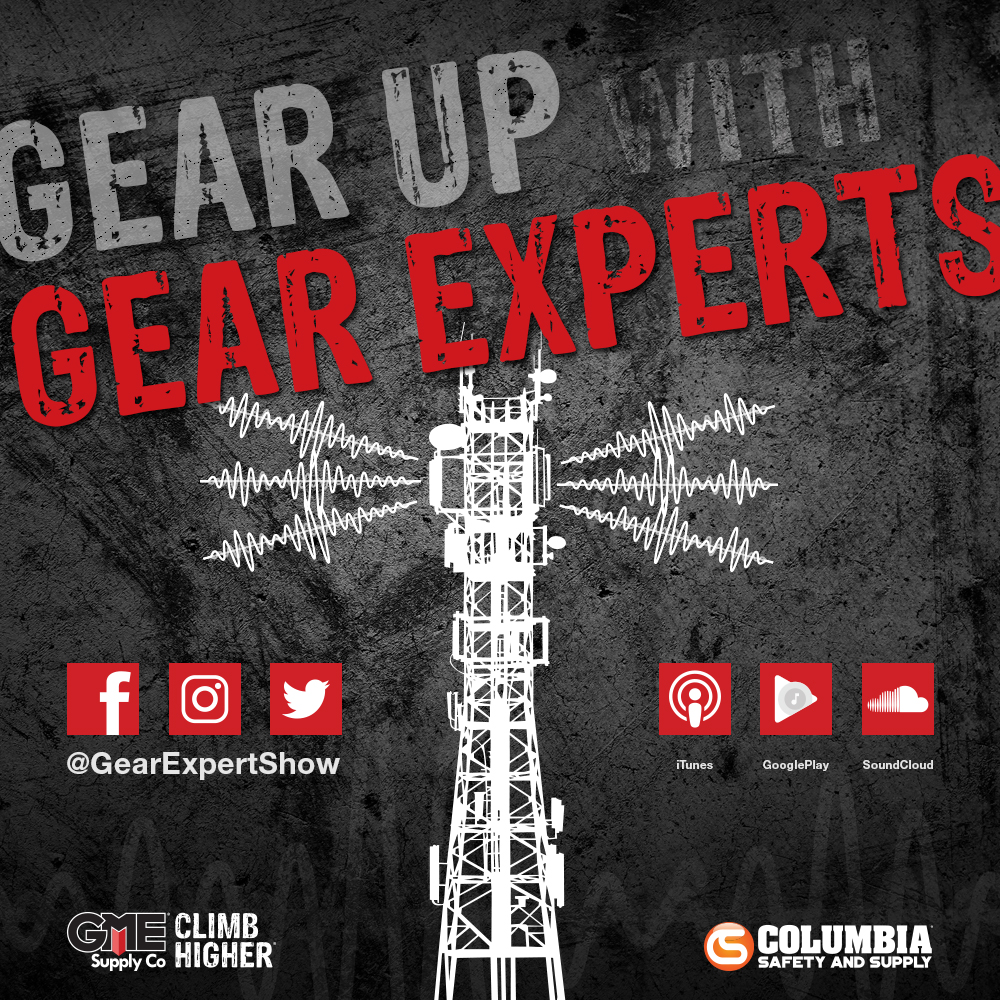 We're also proud to announce Gear Up with Gear Experts® - A podcast dedicated to at-height, industry, and construction. Gear Up with Gear Experts® is available via your podcast listening platform of choice and in each episode, the hosts (Alex Giddings & John Medina) bring in a gear expert or industry leader to talk about gear, gear safety, tips, and tricks. To find out more about the show and sign up for alerts, head on over to gearexperts.com.
iTunes | Spotify | Google Play Music
Get Social
---
Be sure to follow us on social media to keep up with everything GME Supply has going on.
Facebook | Instagram | YouTube | Twitter | LinkedIn

We're Also on Snapchat
---
Simply snap or screenshot this image ↓ to follow GME Supply!