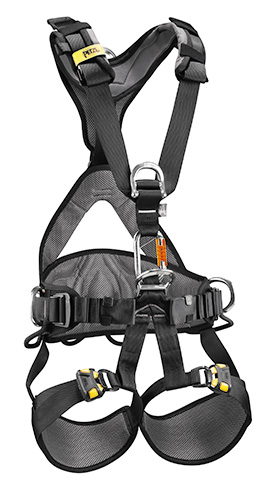 The Petzl Avao harness is one of the most comfortable and lightweight harnesses around. The x-shaped dorsal construction is designed to wrap around your shoulders and back to reduce pressure points during prolonged suspension. And the waistbelt and leg loops are semi-rigid which makes the harness easy to put on and take off.
The Avao is also loaded with features to make your job easier as well. It makes carrying tools up the tower easy with multiple tool loops and special retainers for attaching bags and tool pouches. The side attachment points fold away when not in use so there's no snagging while you're working. It's also designed to keep you cool with the breathable, perforated foam shoulder and waistbelt.
Petzl took the time and did the research to find the best way to reduce the trauma associated with hanging in suspension. The Avao is designed to distribute the load over the leg loops, which makes the wait for rescue much more bearable. This also reduces the chances of orthostatic shock, the worst-case scenario if you have to be hanging after a fall for a long amount of time.
The harness can be outfitted with quick-connect leg straps. These allow you to get the straps to the right fit and never fiddle with them again. The Avao Bod Croll Fast model comes with an integrated Petzl Croll vertical rope clamp which makes ascending ropes simple for you rope access guys. And for the tower hands, add on the podium seat and you have a lightweight, versatile tower climbing harness.
This week only, all Petzl products are 10% off. Use "PETZL10" at checkout to receive the discount! The deal is only good through 5/19... so act fast!