Many dynamometers are bulky, heavy, complicated, expensive, and well... ugly. The LC1 Enforcer from Rock Exotica makes things easy and looks good doing it.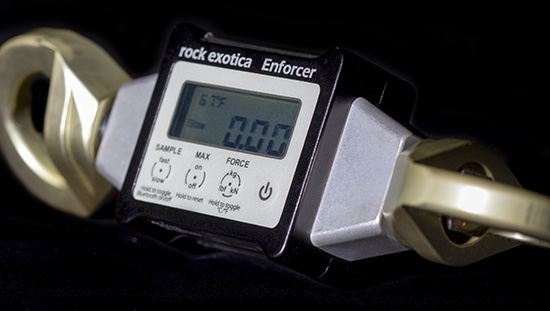 It's light. It weighs just 14 ounces, made of durable aluminum alloy and steel. Pair it with the optional waterproof case and it's easy to transport and store. The LCD screen and simple interface make the Enforcer easy to read and operate.
It's strong. The device is rated to 36 kN, but will only measure up to 20 kN. If forces exceed 20 kN, the device will permanently ready "overloaded" on the display. At this point, the device is still good for testing, but shouldn't be used in life safety events. It's also recommended to back up the device to reduce the risk of any accidents.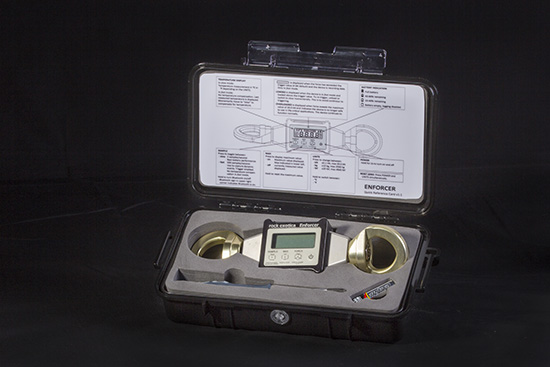 It's versatile. Forces can be measured in kN, kg, and lbf, in both slow and fast monitoring modes. The slow mode samples twice a second, where the fast mode measures 500 times per second. You can also turn on the "Max" mode to display the max value measured. This is great for measuring dynamic events.
It's techy. To make reporting easy, the Enforcer also has integrated Bluetooth to pair with your iPhone. The Enforcer app is available in the Apple App Store. Use it to instantly monitor static forces, record dynamic events and graph and log all of the tests. The graph can be viewed on the iPhone, emailed as an attachment, or saved to the cloud using DropBox or Google Drive.
Check out our videos to see the Enforcer in action. More testing videos will be coming soon!