GME Supply is proud to announce the release of our brand new line of canvas bolt bags and lift buckets. These bags are strong, durable, and made in the USA!
Our bolt bags are made of heavy-duty canvas with rivets for extra strength, and come in three different styles:
First, the GM-5416TCP Extra Tall Top-Closing Bolt Bag, which is 12" tall and opens to 9" by 5" and has a 3" drawstring top.
Next is the GM-5141P Extra Large Utility Bag, which is 10" by 12" by 5" with a 9" by 5" interior pocket and has a leather bottom for extra durability.
Finally, the GM-5416T Bull-Pin and Bolt Bag is 10" tall and opens to 9" by 5" and has bull-pin loops for tool storage. Video coming soon!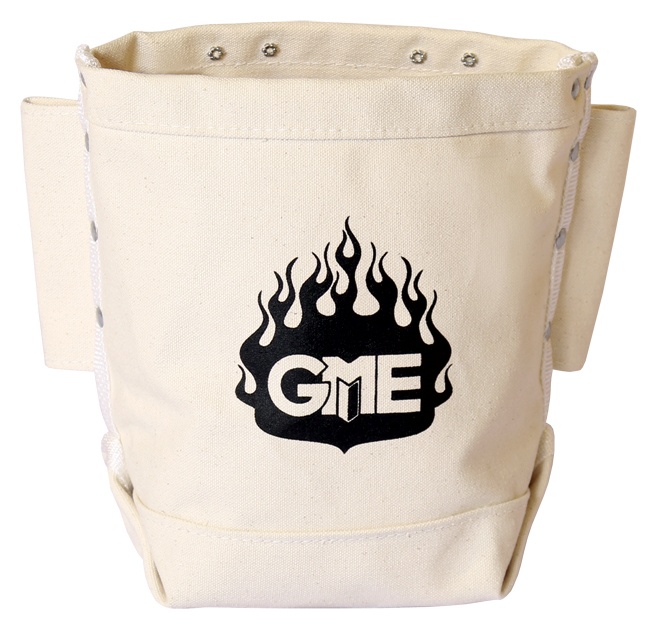 Our lift buckets, or nose bags, feature a high-strength webbing handle that is stitched down the length of the bag for better load distribution. The straps can be purchased with or without a swivel snaphook.
The GM-5104 Leather Bottom Canvas Bucket is 17" by 12" with a high-density polyethylene top ring for strength and chemical resistance. The leather cuff extends 3" up the side and the bucket also has an 8" interior pocket.
The GM-5109 Plastic Bottom Canvas Bucket is 15" by 12" and has a durable molded polypropylene bottom. This bucket also has a high-density polyethylene top ring.
To learn more about any of these bags, visit the product page. Be sure to like us on facebook for daily product videos and news about our latest products!