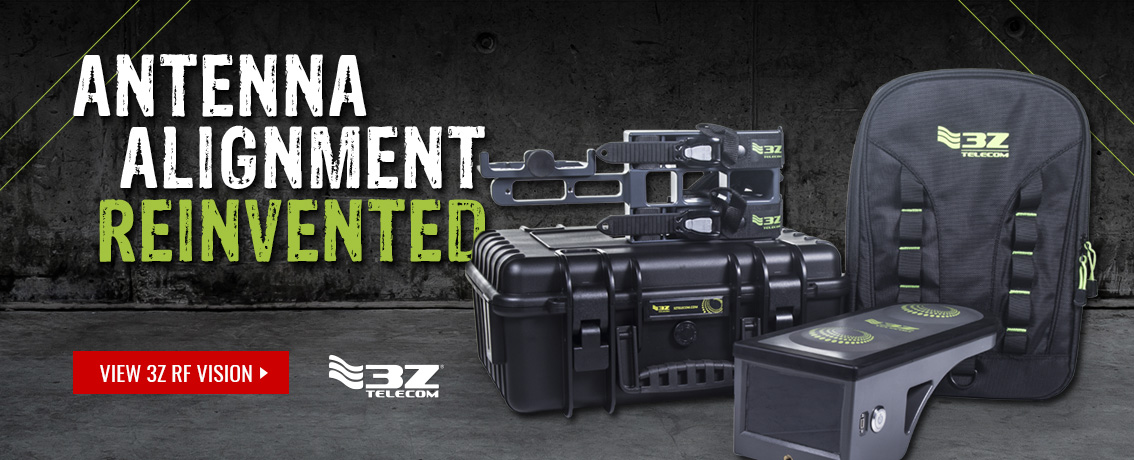 Antenna alignment is an important part of installing and maintaining antennas. Without proper alignment, you can run into a whole slew of issues like coverage gaps, network performance gradation, and loss of revenue. That's where an antenna aligner like the
3Z RF Vision Antenna Alignment Tool
comes in. In the first three parts of our four-part blog series on the 3Z Vision Antenna Alignment Tool, we covered the
device itself
, the
tools and accessories
that can make the antenna aligner extremely versatile, and how to properly
care for and inspect your
antenna aligner
.
This week our
Gear Experts®
are going to cover the warranty and replacement plan available for the 3Z Vision Antenna Aligner.
Warranty
---
The warranty for the 3Z RF Vision Antenna Aligner is similar to many standard warranties for electronic devices. We will outline some of the points below but recommend that you read
this document
which covers the Manufacturer's Warranty in its entirety as well.
What Is Covered
The warranty is a limited warranty that covers factory defects in materials and workmanship in the product(s). It is effective for one (1) year from the date of original purchase and includes hardware as well as firmware and software updates.
What Isn't Covered
The warranty, like most warranties, doesn't cover damage, deterioration, or malfunction resulting from any alteration, modification, improper or unreasonable use or maintenance, misuse, abuse, accident, neglect, exposure to excess moisture, fire, improper packing and shipping (such claims must be presented to the carrier), lightning, power surges, or other acts of nature. Basically, take care of the device and don't try to fix it yourself if something starts malfunctioning. If you start having issues, contact one of our
Gear Experts®
and we will help you get the process started.
Who Is Covered
---
It is important for us to mention that only the original purchaser of the RF Vision Antenna Aligner is covered under the warranty. This means that the warranty is non-transferrable, and you will need proof of purchase in order to make a claim. For more information about the warranty claim
click here
. As you see from the warranty information, not everything is covered. Not to mention that the warranty only covers the first year of you owning the device. That's where something like the Damage Protection Plan comes into play.
Damage Protection Plan
---
The damage protection plan is an optional plan that can be purchased in conjunction with the
3Z RF Vision Antenna Aligner
. This plan is unique because it can be renewed every two years – ensuring that you never have to go a minute without being covered.
Included in the Damage Protection Plan
The damage protection plan covers: → Bi-annual premium calibration for the term life of the plan ($895.00 value per 2 years) → Bi-Annual battery replacement included for the term life of the plan during bi-annual calibration ($595.00 value per 2 years) → The manufacturer´s warranty is extended during the Damage Protection Plan period. → Bi-annual cleaning, and/or tune-ups during included recalibrations. → Damage caused by accidental physical damage including unit dropped from buildings and towers. → Damage caused by spilled liquids or accidental rain. → Cosmetic defects or damage (such as cracked outer cases, cracked LCD screens) or defects that inhibit the proper operation and performance of the covered items. → Electrical damage caused by improper or over-charging of battery or using incorrect voltage outlets or incorrect recharging adapters. → Damage due to dust, animal or insect infestation. → Repair or replacement due to vandalism, riot, or general environmental conditions, including but not limited to rust, corrosion or mold.
The Fine Print
The damage protection plan is subject to the following → Each time a 3Z RF Vision is sent to repair, 3Z Telecom will charge an Evaluation Fee of $99.95 to evaluate the condition and repair plan required for the equipment. → The 3Z RF Vision is subject to a $2,000 deductible in the event that a full replacement of the product is required. → The damage protection plan cannot be transferred to any other alignment tool. → All shipping and associated costs are the responsibility of the owner and not included in the damage protection plan. Got questions or need more information about the warranty and damage protection plan?
Click here
to contact our Gear Experts®. →
Click here
to see the 3Z RF Vision Antenna Aligner →
Click here
to see everything from 3Z →
Click here
to see our previous blog posts on the 3Z RF Vision.
RF Vision - Bullseye Targeting System: Tutorial
---
Get Social
---
Be sure to follow us on social media to keep up with everything GME Supply has going on.
Facebook | Instagram | YouTube | Twitter | LinkedIn

We're Also on Snapchat
---
Simply snap or screenshot this image ↓ to follow GME Supply!